Dinner at Restaurant Le Newtown
When: Sat May 21st, 2011 19:00
Addr: 1476 Rue Crescent, Montreal
detail photo & text report:
http://tinyurl.com/3sd3cfc
It is now Martin Juneau (who used to be at la Montée) who is at the helm at Le Newtown. Decor remains the same as it used to (omnipresence of black tones, dark wooden tables, large glass windows, an overall modern chic decor. The food is less gourmet than it used to be under Chef's Marc-André Jetté's supervision, but it is refined as could be more accurately qualified as pertaining to the upscale North American modern bistro type. On this meal, some food items were modern rework of French classics (for ie anchoiade,
Some meals were better than others, but they all leaned towards being 'good enough' rather than 'great':
Among the best dishes, this 'Braised quails, beacon', the highlight of the meal. It was packed with superb flavours and cooked to perfection: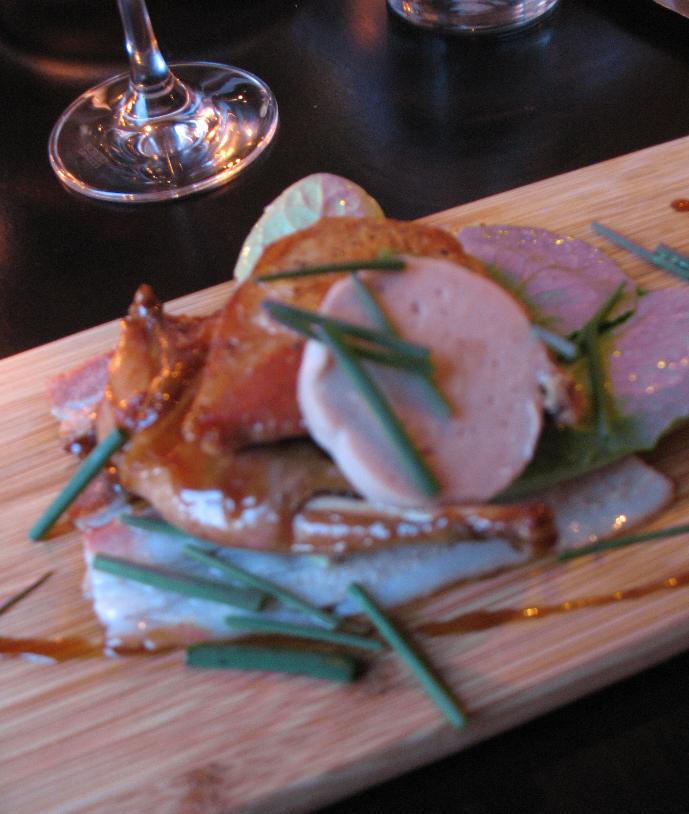 But many other dishes failed to live up to what Chef Juneau can offer when he is cooking in his prime, such as
the following course of Tataki of tuna (Not bad, but uninteresting):
We chose the wine offerings by the glass: had couple of nice little rare gems here and there, but most wines we had turned around some chablis and sauvignon blancs that I was already familiar with.
Service on this dinner was flawless, attentive.
Overall a good dining performance, but not great enough.