Last week I was in Las Vegas attending
"Vegas Uncork'd,"
and had the opportunity to stop by Blue Ribbon Sushi Bar & Grill at the Cosmopolitan Hotel. We were invited to come for a taste of the offerings at Blue Ribbon in celebration of the re-opening of the restaurant. Last month Blue Ribbon had to shut down due to heavy water damage caused by a faulty fire suppresant system.
Known in some circles in New York for the best fried chicken, I had to give the Las Vegas chicken a taste. Yes, it is very, very good--crispy on the outside, tender and moist meat and a scent and flavor of Japan from the seasonings. It got me thinking about looking at chicken wings in a new way-sans the sticky, sweet, tongue-numbing sauces that "Buffalo" style wings are known for.
When I got home, I searched online for the Blue Ribbon recipe and only found a few general references. But I think I've come fairly close to replicating the orignal at home, a very "un-Buffalo" style wing if you will.
I started by brining the wings overnight in a mixture based on the Thomas Keller recipe-salt, honey, bay leaf, lemon, thyme and water. (Beware of Keller's brine mix, it calls for a LOT of salt).
The dredging mix for the wings calls for a combination of flour and Matzo meal. I combined equal parts of flour and Matzo, then added a few tablespoons of cornstarch for extra crunch. The seasonings call for paprika, cayenne, salt and Japanese togarashi pepper seasoning, (a combination of red pepper, roasted orange peel, yellow sesame seed, black sesame seed, Japanese pepper, sea weed and ginger). The togarashi is Blue Ribbon's "secret" seasoning. I also added some black pepper and smoked paprika for additional flavor.
The wings were deep-fried in peanut oil at 375 for about 5 minutes, then served with a soy sauce, ginger, garlic and green onion dipping sauce.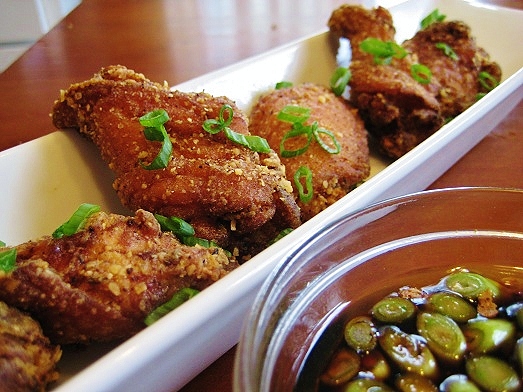 What are you favorite recipes for Chicken Wings "Beyond Buffalo?"