I feel Singapore could hold its own in a "Best Eating in Asia" contest. Hands-down - especially for choices.
I flew in last night and have already had two of my best meals of Rabbit year.
First up - ION. I took the MRT to Orchard to gear up on the massive amount of book-buying I'm planning to do here. Is ION new? I don't remember it from when I was here in 2007, and I couldn't find any info on their website.
I was peckish after a day of crap food - first in Pudong terminal one (bad ramen) and then on the 5 hour flight - the highlight being the pickled radish and the mandarin orange.
I knew I wanted to go right to the food court, especially as I was dining solo. It did not disappoint. I will disappoint you, however - I'd forgotten my camera, so no pictures. I might go back, though.
There was a juice station right off the escalator. I regretted not going immediately, because it seems the thing to do is get a juice to drink while cruising your options.
I saw a big case of cranky-looking crabs, tied up and waiting for black-pepper saucing. There was a toast shop with kuih and kaya (noted), a gorgeous rack of yellow chickens for chicken rice, but I stopped in front of Padang Padang, an Indonesian/Malaysian place with Nasi Ayam, Nasi Lemak, and a whole rack of fresh vegetable dishes.
I got set C - one meat and two vegetables plus rice on a banana leaf. It was almost impossible to choose, but I hung around at the back of the queue to see what other people were ordering. In the end, I got fried chicken, chili fried eggplants, stewed greens with carrot and garlic, white rice with chicken curry sauce over. There was a sambal station at the cash and I will admit to taking a spoon of each. $6.50 SGD.
This morning, I avoided the breakfast set of toast and cornflakes at the hostel, and instead went to Lavender st. hawker centre, just down the road.
I had taken a cruise through the night before on my way back from ION, and had flagged "Eminent Frog Porridge" for breakfast, but alas - it was not open. This time, I cleverly got a lime juice to sip while assessing the remaining options. There was a Hong Kong dim sum place with intriguing towers of dumplings, but the dumplings were all suspiciously even-looking to me, which suggested frozen dumplings. But, as I wandered down the line, I found the stall with a man in whites twisting a giant ball of dough and pulling knobs of pork mince off of another log. Sure enough, those dumplings were all his. The sign said: "Please order from stall 9", so back I went. "Pei Yun Tim Sum".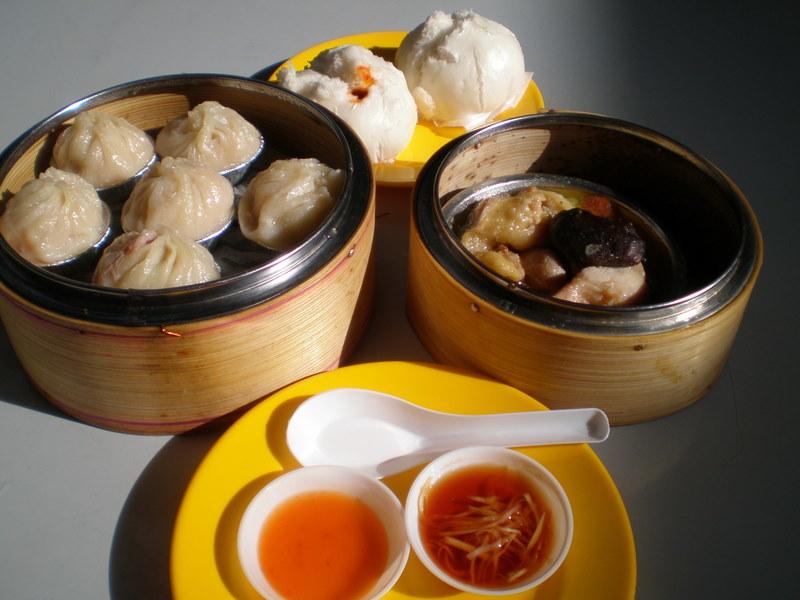 It's breaking a cardinal rule of mine not to order a non-local specialty when I'm visiting a place, but after seeing xiaolong bao man do his work, I had to try Singapore's take on it. Putting them in little tins seems cheating a bit, but I've seen that in Shanghai, too.
The soup was nothing compared to Shanghai, but the meatball was lighter and fresher tasting than the ones I've tried there. Green onion definitely played a part.
Char siu bao - because I had to: (I took one wrapped to go for elevenses)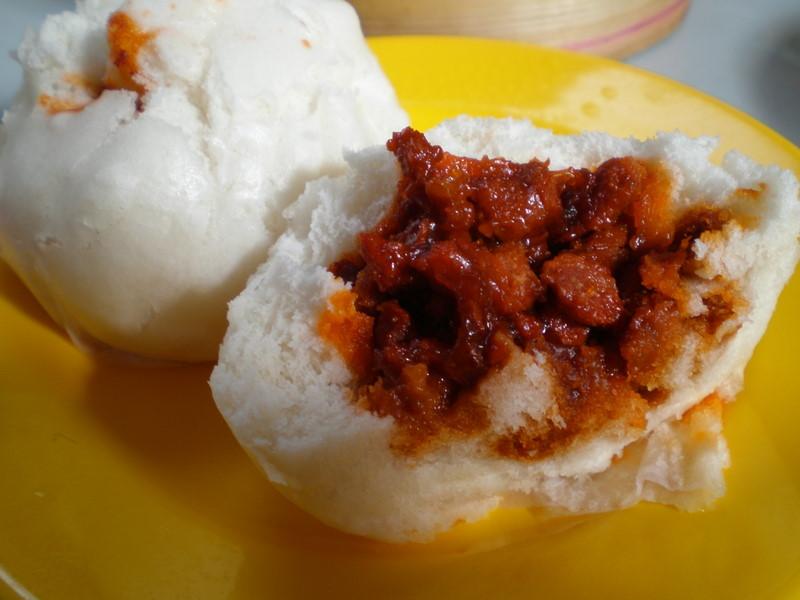 The highlight of the meal: "Chicken and mushroom"
Tenderized chunks of chicken ribs, probably velvet with lots of black pepper, then cooked with rich stock, dried mushrooms, and sausage. Please, please weigh in if you know what this is called - there was no sign for this dish, I just picked it out of a tower of steamer baskets.
10.50 SGD, plus chased with a Kopi Ais for another $1.30
Tonight: Little India. Lunch...No idea. There's a Bak kuh teh place across the road.