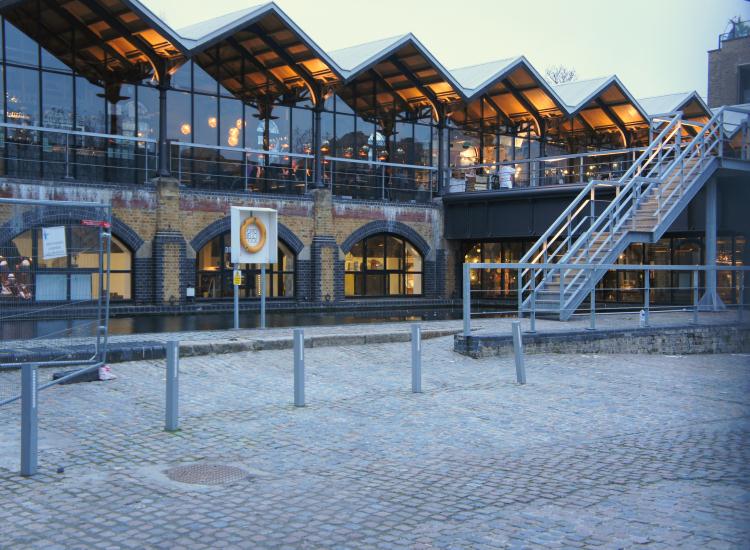 About four weeks ago I managed to get a great deal on a London hotel room, which meant we could stay two nights instead of one, for exactly the same money.
Excited at the prospect of not only two restaurant visits, but three, I promptly booked here, as that extra choice.
Part of my pleasure of dining out is the unknown, location, parking, will we like it, good table, bad table, etc. etc. This is really part of why we don't return much to many places. I'm not the comfy slippers sort, I like the experience of new.
This place is quite hot at the moment, most especially that chef Stevie Parle won an award from
Observer Food Monthly
. Its not new, its been around a while, and started life as a pop up restaurant in (and above) design guru
Tom Dixon
shop. Indeed the shop is well worth a look (if you time it right). You can even buy some of the restaurant fittings, even down to the single copper light shades at a whopping £285 each.
As our other two places were Michelin starred we expected a much different type of meal, and that is what we got.
The lunch menu is short, sweet, but none the less interesting. Four, five, four, to be precise. I was intrigued to sample Mr Parle's cooking as I heard he is a wizz with herbs and spices.
First though the room.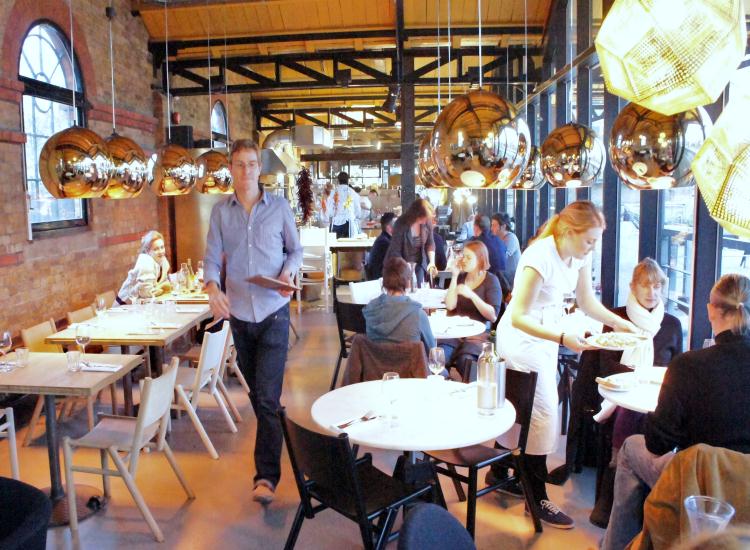 A huge expanse of glass to one side, and an equally appealing brick facade on the other, interspersed with more glass, to give an expansive and light flooded space.
The open kitchen is about half to two thirds down the room with another private-ish sort of dining space beyond. This seemed quite full of happy munchers, I did not explore, its hard to pass an open kitchen, yum, yum.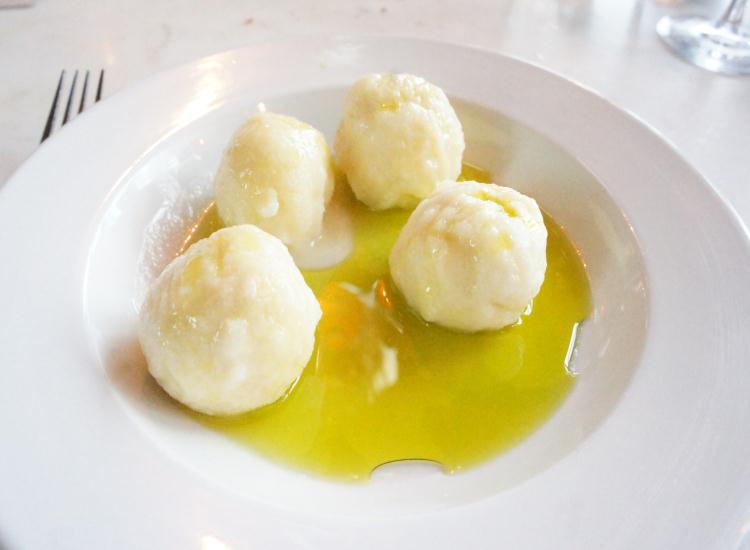 Gnudi Bianci £7.50
were explained, but went over my head, they were delicious and I think ricotta cheese with what? I was on a promise to just enjoy, "do not dissect, every morsel". I think this dish is a nod back to Parles time at River Cafe, its clearly Italian influenced.
Artichoke and Miglaccio (£7)
. Is again perhaps in one of the River Cafe Cook books, but those who are wiser than I will perhaps be able to describe the dish better, thankfully the photo conveys what was on the plate, and it ate rather well. Which is more to the point.
Sea Bass and Red Mullet (£15) was a stonking dish. Not the most attractive I admit, but a medley of flavours going on in this dish kept us digging and unearthing, almonds and black olives, tomato, and "wild" and Florence fennel, to name but five. Big hunks of fresh fish and plenty of it. Red mullet a lot better tasting than some recently from my fish wholesaler. All of the above swimming in a
vermentino
flavoured broth. Well worth the cover price.
Stevie Parle cooking my lamb dish. Buy his book
here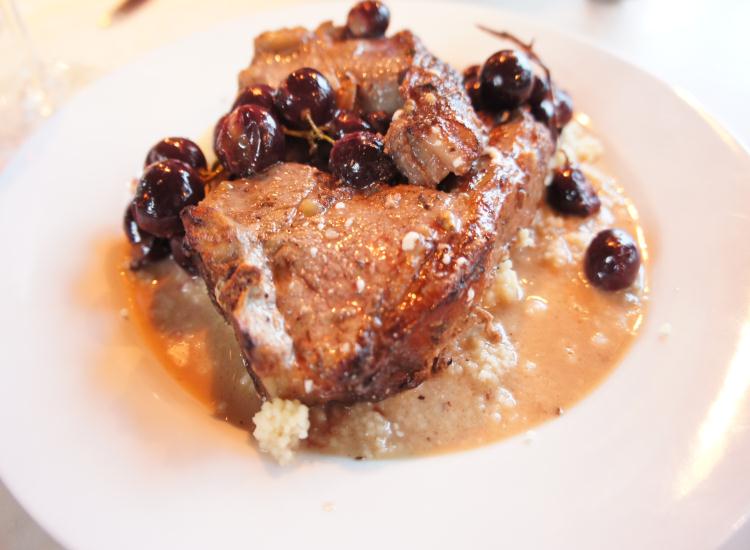 We are off to Morocco next,
Grilled Lamb chops (£14.50)
Not a lot to say about the Lamb chops really, except the surprise of a bunch of grapes, nestling between them. Of course they were tender and flavoursome. It sort of made sense eating both components together, and I instantly fealt the synergy between them. Simple, but effective. This is of course what makes Parle a chef, and me a punter. This dish shows his skill with spices, cinnamon, and honey.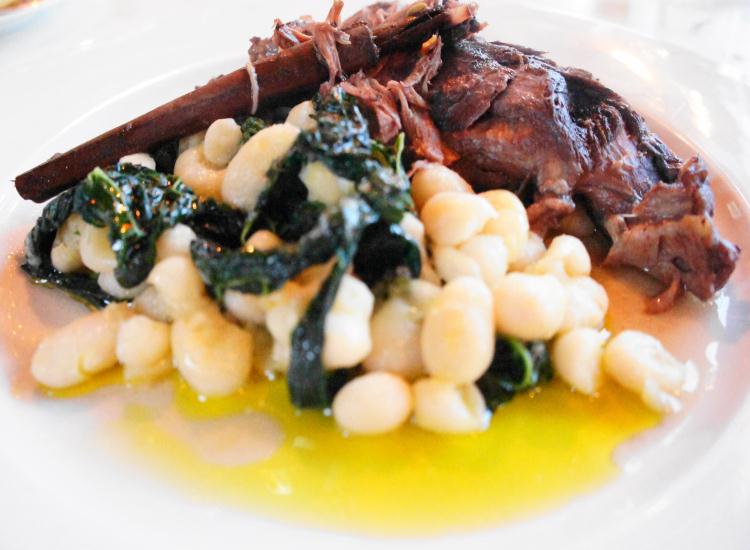 Not sure which part of the world we are eating in here?
Slow cooked Shin of Beef (£13)
cooked in red wine and cinnamon, mace and black peppercorns. Served with Italian influenced, cavolo nero and and white beans. I suppose this is the gutsy type of food we are liking more and more, Again teasing notes of spices, uncommon in most domestic kitchens on a day to day business. All in all a jolly tasty dish.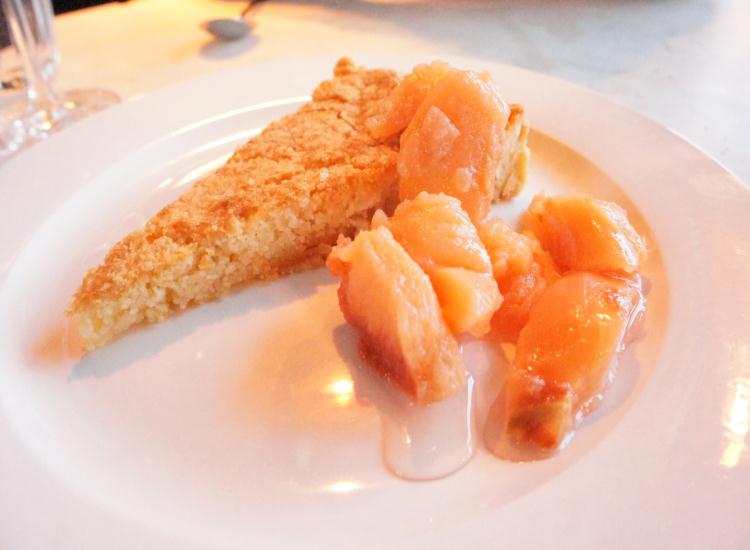 Now, because of an extra dish and the hearty portion size, we can just about managed a dessert between us, which thankfully did not disappoint.
Valencia almond tart with quince (£5)
a decent price for the quality of the product. Bang in season, the tart quince had just the right amount of sour to balance the sugary almond tart.
We had a bottle of South African
Cape Chamonix (£21) from the short list
, which was fine for us, and some local Thames tap water. I don't remember any bread or any other fripperies, although I may be wrong, but I would normally take a photo, so?
Considering some of the mains are £13/£14, by the time you add extras in (as we did) like wine, an extra dish, and that dreaded 12.5% service charge your bill will be like ours £93. Having said that if your are a skinnyish model type with no lover in tow, you could get away with a glass of water, and one of the £14 dishes, but then again, best put a bit of weight on, and start enjoying yourself a bit love

Would we go back?
Yes without doubt, but not yet for quite some while, we have plenty of other places to explore first.