End of the Summer Pickles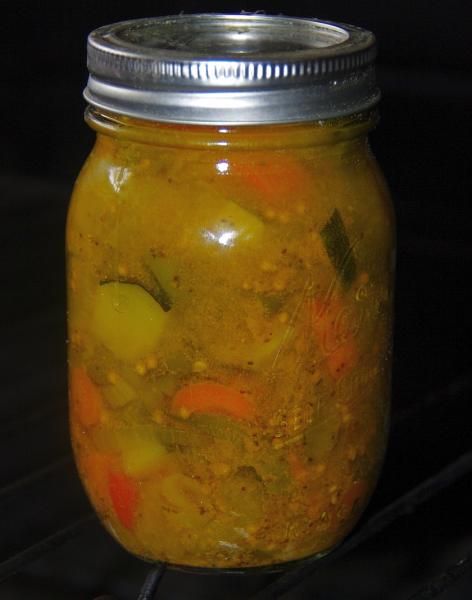 One of my favorite pickles. Good with everything! It's especially good with roasted chicken, a hearty cheese, and chopped fine and made into a tartar sauce (a little mayo, some Worcestershire) with beer-battered fish. Original recipe called for pre-cooking carrots and beans, but I could not really understand why as ten minutes is just fine.
Ingredients
2 cup cucumbers, sliced
2 cup sweet peppers, chopped
2 cup cabbage, chopped
2 cup sliced onions
2 cup green tomatoes, chopped
2 cup carrots, peeled & chopped
2 cup green beans, cut into 1 inch pieces
1/4 cup mustard seed
2 Tbs celery seed
4 cup apple cider vinegar
4 cup sugar
2 cups water
1/4 cup turmeric
4 cloves Garlic chopped
1 gallon water
1 cup pickling salt
1. Soak all the vegetables (not the garlic) in the brine over night.
2. Drain the brined vegetables and put in pan, add all other ingredients, except garlic and boil for 10 minutes. Add garlic and mix well (it has more flavor if processed less).
3. Pack into sterilized jars and seal.
Servings: 100
Yield: 8-10 pints
Cooking Times
Preparation Time: 30 minutes
Cooking Time: 10 minutes
Total Time: 55 minutes
Tips
You can nearly use any vegetable combinations here. Cauliflower, celery, zucchini, eggplant, peas (with pods too), turnips, radishes, etc.
Edited by loki, 09 October 2010 - 12:04 PM.