September 6, 2010 – WGF11 – A New Beginning
It's that time of the year again, and, thankfully, the World Gourmet Fest is happening after all. It would seem a close thing, as only a couple of months ago the Four Sesaons (and many other of the hotels in Rachaphrasong) were shut down in the midst of the insurrection.
As you can imagine, I was somewhat concerned. Primarily for the well-being of my friends here, but also with the fate of my perennial holiday. But the news came through a while back that they would make a go of it, and so I'd been making my plans for some time.
There would be changes this year, the first WGF of this second decade. Some old standards went by the wayside. The Gala Dinner is no more. A pity, as it changes the dynamics, but it was meant to be a fundraiser for charity (The Red Cross' Save A Child's Life From AIDS), and at that (its purpose) it hadn't been working well.
The cooking classes are also gone. This was in part at the chef's requests. Many of them, given the choice of talking in public or having hot tar poured down their noses would opt for the hot tar (I'm partial to creosote over public speaking myself). Instead there would be daily buffet lunches in the lobby, with one or two of the chefs on station and providing light demonstrations.
The day-by-dramatically changes, and so this week will see more lunches on the town (and me actually accomplishing some things) with – for the most part – the afternoons and evenings spent here.
++++++++++++++++++++++++++++++++++++++++++++++++++++++++++++++
After the usual flight from hell, I stumbled through Suvanabhumi airport's immigration to find a surprise. (Yes, why would you give an international airport a name no one can pronounce?)
Note: full disclosure – The Four Seasons pampers repeat customers.
They had a Merc waiting (WGF11 logo on the side) to bring me back where I belong. Nelson had pretty much abandoned the element of surprise through the Facebook posting, but you'd hate for some thing like this to go to waste because I'd blithely wandered out to the taxi stand.
So the trip starts well, with my girth nestled into the leather of the rear seat, kaffir lime scented cold towels, and chilled bottles of water for me to rehydrate with.
Outside Krungthep slid by in the afternoon sun.
Let's set the stage for the week of fine dining ahead. You can eat well in many places, but few offer the backdrop of tension and drama that can be enjoyed in the City of Angels.
I've been away a few months, having been in on only the prequel to the troubles up to the start of April.
But everything looked pretty much the same for much of the ride. There was the new skytrain link out to the airport that whipped past us, and, with the rains, the city was cleaner and crisper (but without that hard light of Vancouver).
The Bangkok Post, discretely folded away in a leather binder, talked of reconciliation. Reconciliation is the word of the day.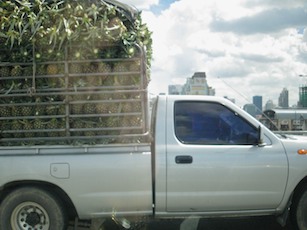 Beside me, at the toll booth, a truck loaded with pineapples runs up past us.
A billboard sailed past. Tastes of Japan is on at Central.
Another billboard: International Flavours at Paragon.
The newspaper has an ad from Le Cordon Bleu talking of a new professional program for Thai cooking. That'll be worth asking about.
I'm also registered for Food & Hotel International next week ( a mere bit of bullying and questionable credentials, but that's to be another story).
Driving into Rachaphrasong, messages were mixed like a stir fry. The gilded excess is still present, but Central World remains charred, although the hoardings again talk of reconciliation.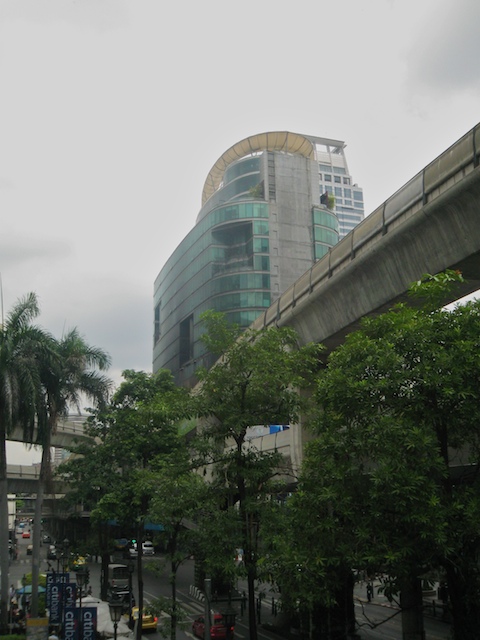 The driver takes the usual shortcut through Gaysorn – land of Gucci - and we glide past the Erawan shrine – all dancers and incense and Canon shutters – and then we're back.
There's the reception line and greetings with people I've not seen for several months, and then I'm up to the room to find a new set of chef's whites for me,
and a plate of tarts from the good Mr. Calvert to welcome me home.
And people wonder why I keep coming back? (Okay, nobody wonders why I keep getting bigger).
I set to the tarts and fruit, which was enough to dull the edge of famine.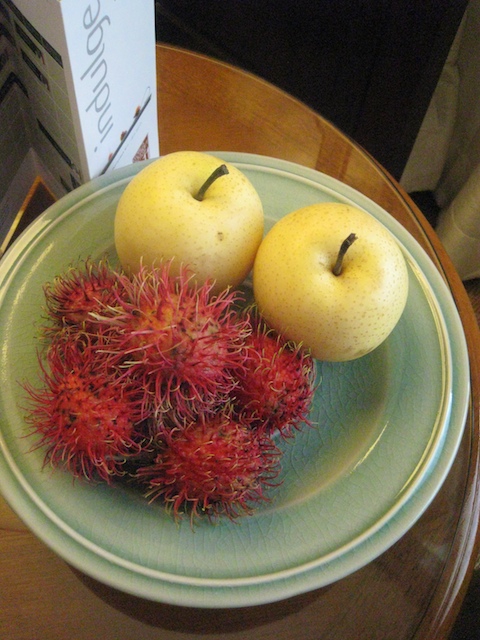 The pears were crisp and wet, full of that sweetness that puts you in mind of a country morning in the Okanogan. And rambutan are still one of my favourite treats. It's been a long time, but I still remember the rush of happiness on my first trip here as I bit into rambutan, mangosteen, and other things I'd never dreamt of.\
A swim shook the cobwebs off of me, to some extent, and then I repaired to the executive club for some chardonnay and snacks. The central kitchen was preparing things this evening, and I had wisely avoided eating airplane food. ("You don't want dinner, sir?""No thankyou, I'll save my appetite for Bangkok.""Good idea, sir.")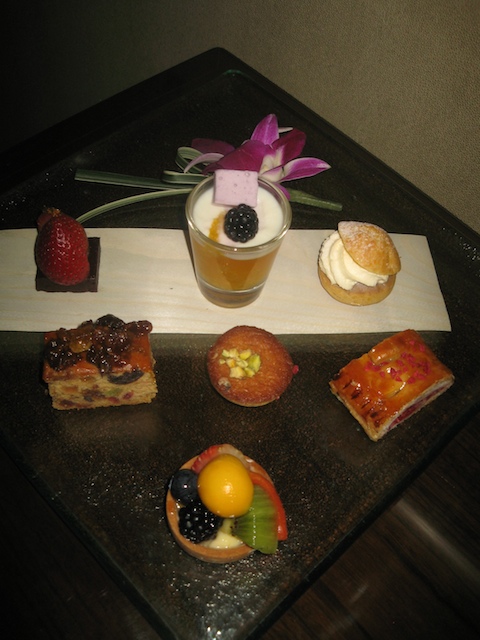 Back from the swim, I found the tray of sweets replenished. Stephane Calvert is an evil man intent on banishing any hint of a waistline I might ever have (but in a good way).
Obviously, then, I would need snacks. And that is what the executive club is for (among other things).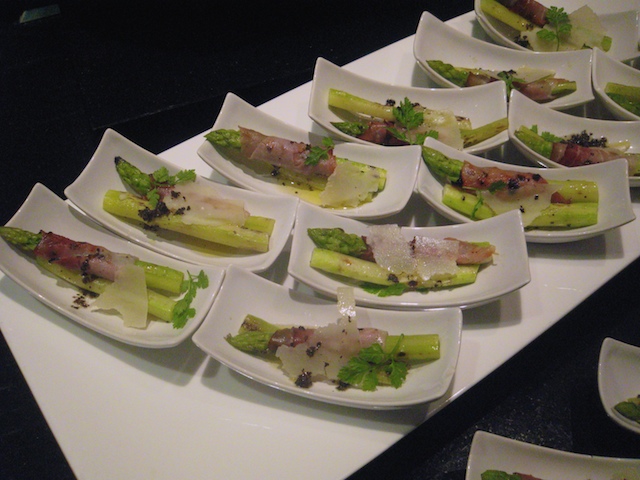 Grilled asparagus with olive oil and shaved parmesan;
the Four Season's house-smoked salmon with a very Japanese drizzling of mayonnaise; a tidy little dollop of crab meat in a mushroom cap, livened up with Thai chilis to water the eyes;
seared tuna with balsamic and asparagus; and a bit of deep fried softshell crab (with more mayo).
These moments in the club are another benefit of the week. It gives me a quiet time to focus on what's come and gone, and still to transpire.
Transpiring Next:
Alejandro Digilio