There has long been a trend among oenophiles toward specialization in wine stemware. Riedel, the leader of this trend, makes more than 40 different wine-glass shapes, each specifically targeted at a certain type of wine. If you don't use a glass custom-tailored to the wine you're serving, some would have us believe, the wine won't taste as good as it could. Manufacturers of wine glasses, of course, stand to benefit greatly if consumers believe this and seek out multiple sets of wine glasses, not just one for red and one for white.
Whether or not there's something to it, the reality is that it's impractical for almost anyone -- consumer or restaurant -- to keep a full array of Riedel glasses on hand. My personal solution has been to keep two sets of Spiegelau glasses in inventory -- the Bordeaux glass and the Burgundy glass -- and to use the Bordeaux glass for all my whites and the Burgundy glass for all my reds. This isn't a perfect solution but works for most wines. Were one to devise the perfect two-glass solution it would involve a much more scientific process of averaging and tasting.
Andrea Robinson (formerly Immer) recently spent three years doing just that. Robinson worked with the German glassware manufacturer Stölzle (a 200-year-old, major producer of lead-free crystal) to design The One. Or maybe it's really The Two. The idea is that she and her crystal-making counterparts have come up with just two glasses -- white and red -- that are intended to cover most any wine situation. They are pretty cool looking too: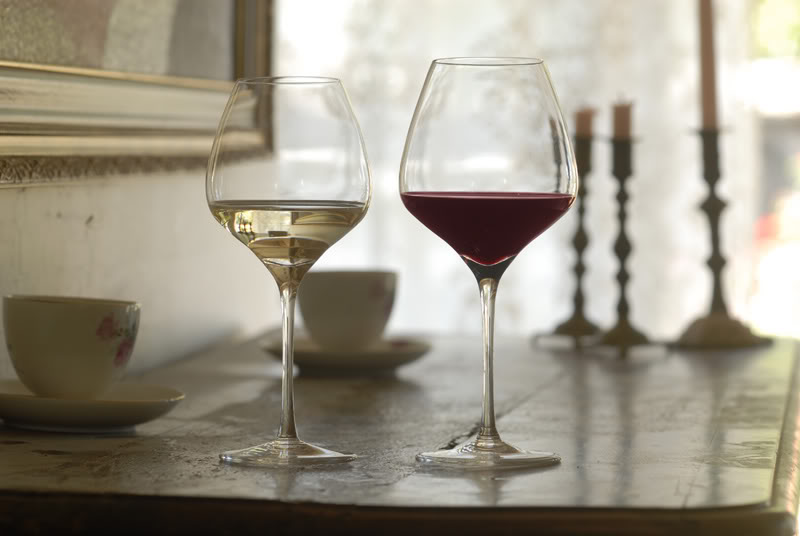 A little while back I went to a tasting hosted by Robinson, where we tried several wines in her new stems. I suppose there are wines that fall outside the range these glasses are ideal for, but we tasted from quite a few diverse bottles and the glasses flattered everything we tried. For comparison she put out the appropriate Riedel Sommelier-series glasses for each wine. I spent a lot of time going back and forth with the two types of glasses, in part because I was trying to be diligent, in part because I need to buy new glasses soon, and in part because I never know very many people at wine events. There were subtle differences in some instances but overall I think The One performed as well as the Riedel glasses in general, better in a couple of cases, and only slightly less well in one case. Certainly I experienced nothing to justify the expense and space requirements of having more than two types of glasses.
The lips of the glasses are very thin, which I think helps -- to me the thickness of crummy wine glasses is their main drawback. The glasses are, for lack of a more creative description, crystal clear. The fairly steep slope of the sides helps collect aromas effectively. They're definitely nice to hold and drink from.
Robinson and Stölzle also added various reinforcing compounds to the crystal to make the glasses break-resistant. You can't hurl them at a brick wall, but they are more tolerant of dishwashers and getting knocked around than normal glasses. I clinked a couple of them together aggressively about a dozen times and hit one against a table pretty hard and nothing happened.
The glasses are not expensive. Through retail channels they run in the neighborhood of $10 a stem. You can get boxes of 4 right now from some Macy's stores for about 40 bucks (US). Apparently the glasses are also being sold, minus the fancy retail packaging, to the industry for closer to $5 per stem. I'll have to figure out how to tap into that supply line.
There's a lot more information on Robinson's website
here
.
At some point I'll try to pick up a bunch of these things so I can talk more about them.