Finally had a chance to post our meal at the 3-starred Robuchon in Ebisu. It was a meal full of flavours using numerous Japanese ingredients. Not only did the 12-course tasting menu feature his classic creations, it also had a nice modern twist throughout. The service was still not as smooth as many European 3-star, but to have such a classy ch'teau with a crystal-sparkling dining room in the middle of the most modern city in the world was incredible!
We have also been to the
3-starred Robuchon in Vegas
. Similar price and similar menu, but this one in Tokyo has a much more spacious and impressive dining room.
Here are some highlights from the Menu Dťgustation:
A Robuchonís classic: P'tť of crab layered with fennel jelly then blanketed with
Caviar
. A wonderful flavour from the sea to begin our extravagant dinner.
Sea urchin 3-way
: Steamed, raw, and baked:
White Asparagus
veloutť with a thinly sliced white asparagus, drops of passion fruit, dots of blood orange jelly, and a crispy water-drop shaped crouton:
Crustaceans
- The whole jumbo prawn wrapped in noodle then deep-fried was perfectly done, but the roll of king crab and zucchini was rather bland.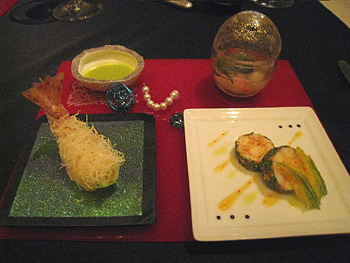 This is the best course of the evening. According to our server, Robuchon chose not to use Kobe nor Matsusaka beef here as there are many premium quality beef all over Japan and no need to pay for those over-priced beef!

They use beef from Ibaraki, just north-east of Tokyo. Tender, juicy, flavourful with a perfect marbling of fat! I have to agree with him -- it is on par with our
Matsusaka or Kobe beef experience
if not better!!
Of course, they have a trolley for everything:
Bread, Butter, Cheese, Infusions,
and
Petits-fours
:


For photos of the full 12-course meal,
SEE HERE
.