Yes, I had the same reaction and was in disbelief, but my recent meal at
Les Créations de NARISAWA
has cleared all my doubts! Being the highest ranked restaurant in Japan, and in Asia, for two consecutive years on
The S.Pellegrino World's 50 Best Restaurants
list, this is a restaurant where a passionate chef cooks with his heart and soul.
We were the first to arrive during a weekday lunch service. Not only was chef Narisawa in the kitchen as usual, but he had started early that morning in preparation for his lunch and dinner service. The elegantly designed dining room allows diners to observe the intense action and collaborated teamwork in the kitchen.
The menu, entitled
Gift from the Nature
, promises a full theatrical performance consisting of three categories:
Forest
,
Mountain
, and
Sea
. My first impression upon browsing through the menu was a merging of the style of Noma, the techniques of Mugaritz, the eye-openers of The Fat Duck, along with the strong seasonal flavours of Japan. However, once the meal began, I immediately sensed the originality of his cooking. This was neither Japanese nor French, but a Narisawa cuisine!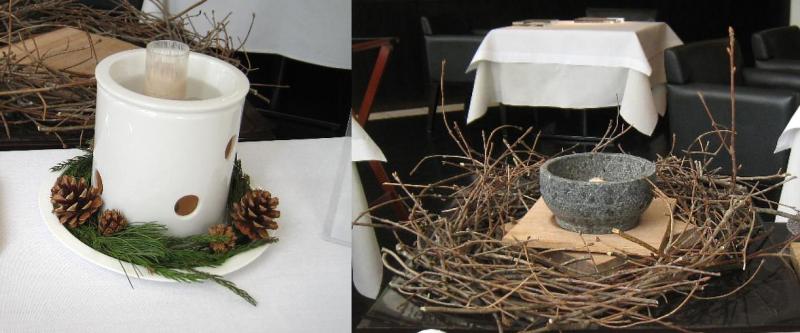 A
Forest
bread-making demonstration was surprising and intriguing. This must be the first restaurant in the world to bake bread in the dining room and without using an oven! I thought the bread trolley of Robuchon was the epitome of bread presentation, but this freshly made bread beats them all!
While waiting for the bread to bake, we enjoyed a short break to the
Mountain
for a tasting of fresh radish and sweetfish from the river before immersing ourselves into the
Sea
with a spiny lobster nested under a colourful garden of vegetables.
I have never been a fan of poached foie gras. I don't know how, but chef Narisawa poached it like nobody else, resulting in one of the best dishes of my life!
Back to the wildwood for our main dish: roasted quail with a raisin reduction and an edible decoration of fried potato skin, sakura leaves, and a black stick of fried gobō sprinkled with cassava powder. Impressive stuff!
Time to settle in for dessert after our fascinating journey through the
Forest
,
Mountain
, and
Sea
. ! A fresh strawberry topped with almond ice cream followed by an eye-appealing and mouth-watering trolley of petits fours.

After sampling eight stunning creations by chef Narisawa, there is no question that he deserved a spot on the
World's 50 Best Restaurants
list. Chef Narisawa is not only an inventor, he is a culinary artist who can transform "Gift from the Nature" to an experience of a lifetime, and that's what sets him apart from his peers. You can find loads of top-notch sushi or tempura all over Japan, but there is only one place in the world where you can experience the cuisine of Narisawa!
Click
Here
for photos and videos of the full menu.