I first heard about
kogibbq
when reading an article in the IHT when in Europe last February. Great concept but not going to spend an hour or more in traffic just to grab a taco.
Fast forward to 2 weeks ago today; I was just about to plate our dinner when I saw a tweet from kogi stating that they would be arriving in Long Beach shortly. Many bad words were said since we live in long beach. No Kogi for us that night.
Fortunately they tweeted last thursday (in the AM) that Long Beach was again on the agenda - 1800 @ the Queen Mary. I called my wife to let her know that kogi was on the menu for that night's dinner.
We arrived at the Queen Mary's parking lot around 1730, already a nascent line forming. The truck was delayed and finally about 1/2 hour late
the object of our desire arrived. (video)
. Of course the line we were in was not the real line and the parking police made the truck move to its customary spot. The same spot where there were already another 50 or so kogiphiles already lined up.
So much for the plum spot in line.
Ridiculous right? Chasing after a roach coach with a twist. Guess we are easily amused.
The real line:
After a few minutes to set up things got under way: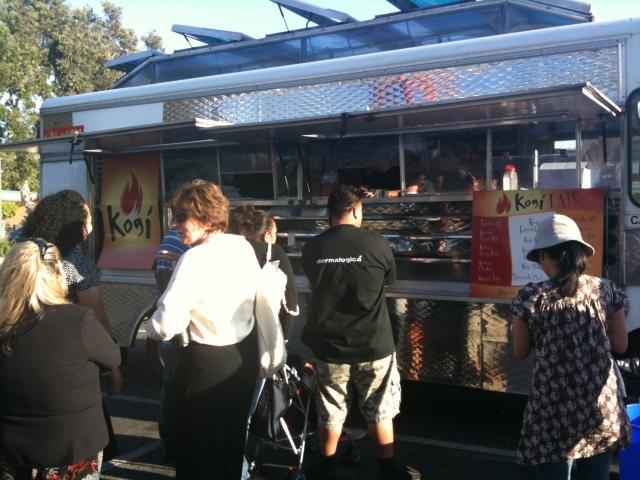 The line was remarkably cheerful with just a couple of malcontents (thankfully).
The truck had 4 guys working in it, one taking the orders with the remaining 3 just hammering out the food from a space smaller than most office cubicles. That alone was a thing of beauty to watch. We ordered 2 beef short rib tacos, 1 ea spicy pork and spicy chicken + 1ea beef short rib and spicy pork burrito. The Kimchi Quesadilla was also ordered.
We enjoyed the food on a nice grassy spot: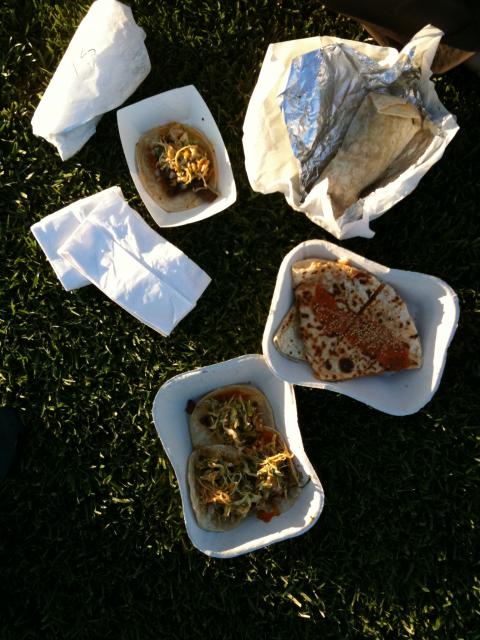 The food was incredibly good. I usually avoid fusion like the plague but that is perhaps because I've rarely encountered well executed fusion before.
Tacos were $2 each, other items all priced @ $5. Word on the street is that the sliders and Kogi dogs(!) are also excellent but we'll have to wait for next time.
This my friends is a taco truck worth chasing!
An hour later the line was a bit better but still substantial: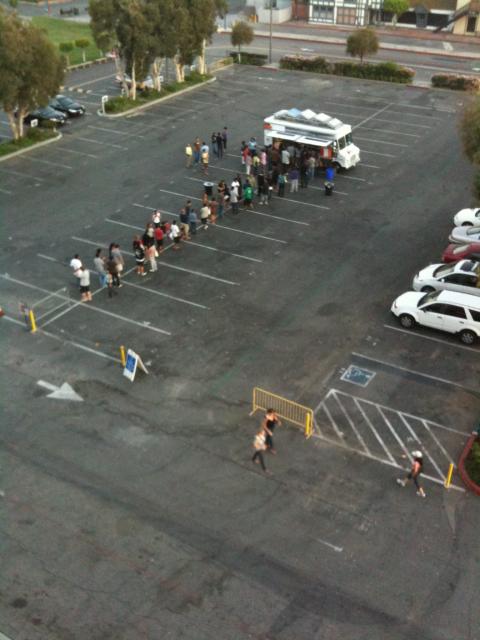 Neat concept; hope their success continues.