We recently returned from a book research trip to South America including spending four days at Mapuyampay hostal gastronomic
Mapuyampay Website
located 175 km south of Santiago de Chile in the foothills of the Andes. It was four days in paradise. Mapuyampay is owned and operated by Chef Ruth Van Waerebeek and her husband Vicente. We first met Chef Ruth when we took a cooking class to the H.E.B. Central Market School in San Antonio Texas. We already had plans to visit Chile and the subject of Chef Ruth's class was wine pairing and Chilean cuisine. We thought this would be a good fit and we were right.
After returning home and checking out the web site for Mapuyampay we contacted Chef Ruth by e-mail and made arrangements to stay four days at Mapuyampay including a cooking class. A young friend from Chile joined us on the Chilean leg of our trip
and so we reserved a cabin with two bedrooms, living room, kitchen and patio for us.
Very comfortable and really more than we needed.
We had planning to arrive about on Sunday and between 3 and 4 p.m. We were traveling from Valparaiso and the trip was taking longer then we anticipated. We stopped on the road for lunch and had steak, fried potatoes with a fried egg in top and sauerkraut. (A little strange for us). While on the road we called Chef Ruth by cell phone, it seems everyone in Chile has one, and she said that dinner would be ready when we arrived. It was a little after 8:00 pm when we left the main highway onto local roads that soon turned to dirt. It as now dark and we were on a dirt track and not really sure where we were. We called again, (it seems that cells work everywhere in Chile), and we discovered that we where only a few hundred yards away from the entrance to Mapuyampay.
We turned into the gate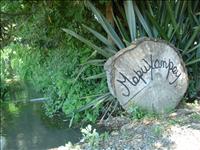 and parked. Chef Ruth and Vicente came out to greet us. Vicente took our luggage to our cabin and we went directly into the main house were the table had already been set for dinner. The table setting was beautiful, with china, crystal and flatware. Jazz was playing on the stereo.
Dinner was served, in the main house off the living room
the entree was a composed mousse,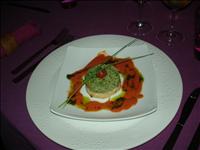 and the main course was a lamb tagine with couscous with Chilean wines, a white, red and mineral water. Dessert was a choice of conserved pears or a frozen sabayon, both great. We were off to a great start.
Next morning breakfast was served on the patio
Chef Ruth's dogs were huge but very friendly. The gardens, lawns,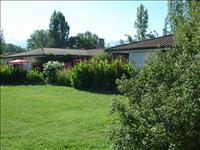 swimming pool and scenery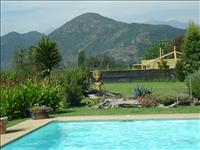 at Mapuyampay are glorious.
The property has its own vegetable garden with free ranging chickens and geese and ducks.
After breakfast we traveled with Chef Ruth and Vicente into the town of Curico stopping at the Miguel Torres Winery for a wine tour and tasting.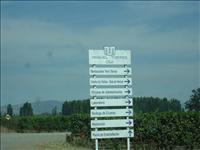 The Torres facility is beautiful, very modern. It was explained that the Torres family revolutionized the wine industry in Chile by bringing into Chile modern wine making methods.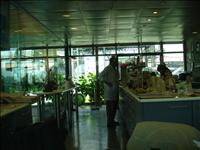 (Winery laboratory) During the tour it was explained that when the fruit for white wine came in to the winery the crates of fresh fruit were taken immediately into cold chambers and chilled down to 5 degrees centigrade before sorting, destemming and pressing.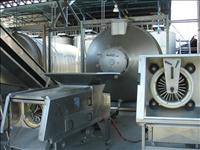 De-stemmer and presses. The purpose of this procedure was to stop any premature fermentation to preserve the freshness and fruitiness of the wine. We were told that this is now normal procedure in Chile. On the tour we visited the barrelhouse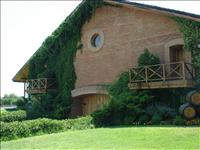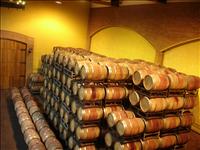 Although I have visited many wineries over the years I can't recall of ever hearing about this procedure – perhaps I just wasn't paying attention.
After the wine tour and tasting we went for lunch in town at the Union Club a private social club located on the town square in Curico, it was something out of the 19th century. We started with pisco sours then tried the pastel de choclo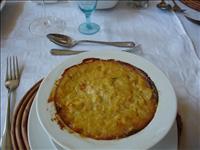 a baked fresh corn and basil casserole with chicken and hard-boiled egg prepared and served in an earthenware bowl or piala and salad. The wine was a 2006 Viña Siegel Crucero Reserve. Nice wine although wine service as somewhat lacking. Dessert was a typical flan and coffee.
After lunch we visited the local market and checkout the local produce – beautiful fruit and vegetables – it was summer in Chile, but was surprised that the variety of range of choice was rather limited. It was explained to us that the produce available is strictly seasonal. Perhaps this is a good thing since everything we saw looked perfect. We spent the afternoon around the pool nibbling on snacks and iced watermelon, reading, napping and sipping pisco sours. We had a light dinner of a salad of fresh mozzarella with tomatoes and basil, and can't remember the rest. We also finished off the two bottles of wine from the night before and just sat around and talked and taking in the atmosphere. The days were warm but the nights really cooled off -- Perfect weather in January.
The next day was January 21st, the historic inauguration of President Obama. It was also the day for our cooking class.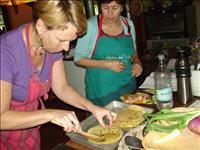 We got started at about 10:00 am after breakfast. We were joined by a lovely lady from Ecuador who after lengthy career in banking in New York had attended the Peter Kump school of Culinary Arts in NYC were Chef Ruth taught years ago and was spending some time with Chef Ruth. A Chilean couple also joined us. He was a lawyer in Santiago and the lady was an American ex-pat. The menu chosen by Chef Ruth was an amuse of Cold Avocado Soup with Ceviche of Shrimp.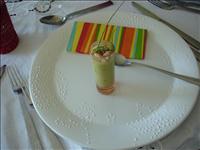 . Fish course of Baked Chilean Sea Bass in a spicy pepper adobo, parsley jus served on a shaved fennel salad.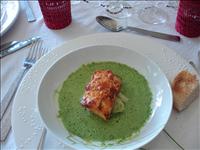 Main course of Spicy Quince glazed grilled tenderloin with cilantro jalapeno salsa and fresh pea puree. Dessert was Panqueque Celsestino, Crepes with manjar (caramelized milk) caramelized apple and Late Harvest Wine frozen Sabayon an assortment of Chilean wines including a rose and red and Conch y Toro Late Harvest Wine and coffee. Lunch was served out on the patio. Chef Ruth made sure we got everything out and plugged any holes in our preparation. We stopped everything at 2:00 pm Chile time to watch the swearing in of President Obama in Spanish translation and we all toasted with a Miguel Torres espumante. Great lunch – Great Day.
That evening the girls went horseback riding up into the hills. They said the countryside was spectacular. The next day after breakfast Vicente took us all up into the Andes for some white water rafting.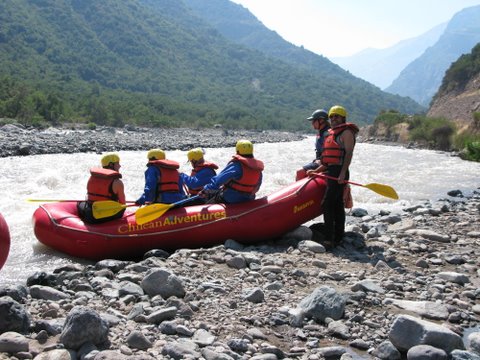 – The water was wild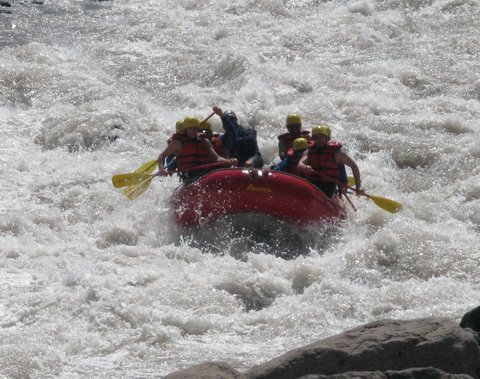 and our guide was a nice young man from New Jersey named Todd Ericson who works for a company called Chilean Adventures (if you can call it work) who told us that he is married to a Chilean gal and doing what he loves to do. After returning back to Mapuyampay all in one piece except for some bumps and bruises it was time to pack-up and leave paradise and continue our adventure in Chile and Argentina. Mapuyampay is a magical place and Chef Ruth and Vicente make it very special – it is truly a little piece of paradise.