A year ago some Portland chefs were hanging around shooting the breeze. Wouldn't it be cool to get together some night, pick a theme ingredient and each cook something interesting? Maybe not just interesting, but exotic?
In fact, just how far can we go?
Deathmatch
was born from a casual dare in Portland, Maine's chef community, a vibrant and busy restaurant scene on some of New England's most picturesque coast.
Since then, there have been three dinner parties - each bigger than the last - each with a theme from which each chef (or team) wrestles a dish for the others to sample. Results have been imaginative, fascinating, spectacular, or just hilarious, but always in the spirit of good fun and camaraderie.
Deathmatch
was never a contest in the traditional sense. There are no winners or losers. The name may say otherwise but it was picked more in the heavy-metal spirit of hard work and long hours in hot kitchens that - you know if you've been there - tends to twist your mind.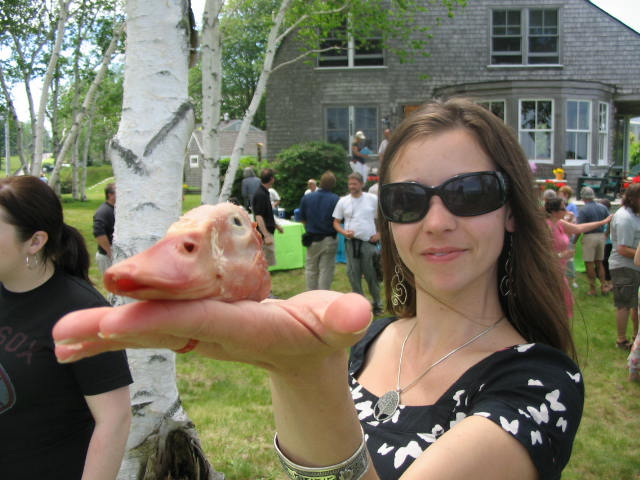 The first
Deathmatch
chose foie gras as the theme ingredient. The second, a deer was slaughtered, dressed and divided among the chefs for a
memorable feast.
The third chose
a Japanese theme.
Somehow, word got around.

Enter
Andrew Zimmern,
the affable host of
Bizarre Foods with Andrew Zimmern
on the Travel Channel cable network. The tip-off might have come from his old college chum Samantha Lindgren, co-owner/operator of a unique, food-centric bookstore in Portland,
Rabelais Books,
herself a
Deathmatch
participant. In any case, the Travel Channel thought it was a good story, and up to Maine they came with a crew of five and a ton of gear to shoot a show about Maine's food scene.
Besides a look at some of Portland's premier restaurants and the indigenous foods beloved by them, the Bizarre foods team asked the
Deathmatch
Posse if they could film an outdoor gathering of the group cooking with Maine-based ingredients - the more bizarre the better.
Well, hell yeah!!
Deathmatch
posse on TV??! C'mon, now!

I'm sure no one a year ago could imagine that we'd be asked to stage a TV show, so we are going for it, man!
Fortunately for everybody, the weather took a turn for the better the day of the shoot. After six days slogging around Maine in rain and fog, the TV crew were hoping for a banner day for
Deathmatch
and all were rewarded handsomely.
That's Andrew and his Dad, Bob, and ace camera guy, Steve. The party was held on one of the many islands in Casco Bay at a waterfront home of friends of the family.
I'll take a break and post some pictures later. Unfortunately as one of the chefs I had less opportunity to take photos than I had hoped for, but luckily Ms Katie Selva - chief photographer of prior
Deathmatch
events was on hand, and might provide additional shots later.
This is a day I will never forget.
Edited by Busboy, 10 June 2008 - 07:18 PM.