Ok, ok, I can't really say that The Kingham Plough is the best gastropub in the Cotswolds if I've only actually tried three of them, but I really doubt there's anyone out there who can outcook Emily Watkins. She's only 29 but worked as Heston Blumenthal's sous-chef for 2 years. I didn't expect much when I arrived there for dinner and then BANG!, an incredible meal. Memorable.
So I was intrigued... who is this girl? And how come this kind of food - excellent - has gone relatively unnoticed? So I did some research and found out that:
- The Kingham Plough, in Kingham, has only been re-opened since August '07 (in its previous incarnation it was very dingy, I hear)
- as much as possible she cooks nose to tail, meaning she'll buy a whole cow from a local farmer then figure out ways to cook all the different cuts
- she's only been there for a few months but already found lots of great local suppliers - the asparagus, for example, comes from 8 miles down the (beautiful) road.
- I'm not the only one who thinks this girl is the real deal. Here's what the Evening Standard had to say:
"The food is too good here to waste space writing about the interior"
"OK I'm gushing (...) but isn't it always the place that opens with the least fanfare which invariably deserves the most"
"This is the best gastropub opening for many years" etc etc etc
Here's what I had: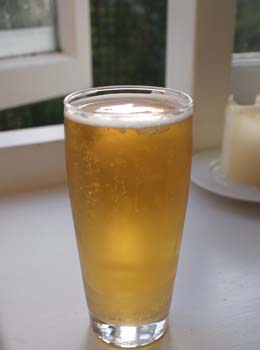 Delicious beer brewed down the road in a neighbouring village
incredibly crisp croquette of escargots on top of a soft pillow of wild garlic soufflé, perfectly-dressed leaves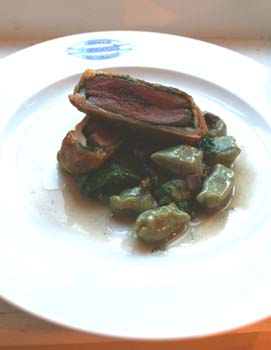 incredibly delicious pigeon Wellington. I couldn't figure out why the meat was so incredibly tender and flavourful and smooth so I asked her what she'd done. Turns out it's cooked sous-vide in duck fat. Your typical pub pigeon dish, in other words. ;) The pigeon was served on a bed of wilted spinach and wild garlic gnocchi.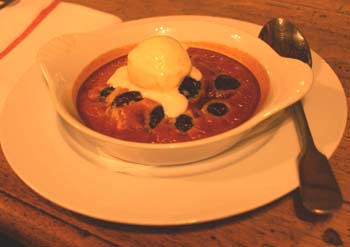 a perfectly fine Damson "Yorkshire" with ice cream made of yoghurt from the ultra posh Daylesford Organic. Only complaint: tasted little ice crystals, maybe she doesn't have a Pacojet?
and then I had a taste of 3 perfectly ripened local cheeses, served with quince and damson paste and water biscuits.
my recommendation: go before she gets famous and jacks her prices!