At the end of our recent trip to Bangkok, the wife and I had lunch at Le Normandie, The Oriental's flagship restaurant and one of the most renowned French restaurants in Asia. We truly did not know what to expect - restaurants with great reputations had disappointed in recent experience, and we were a little 50/50 about whether to come here or go to D'Sens at the Dusit Thani.
What we found was a strong contender for the title of the best French meal I've had, almost certainly the finest I've had in Asia. Yes, it was an experience full of Old World charm, such as the requirement at dinnertime for gentlemen to wear jackets and ties, a grand piano in the dining room and a dessert trolley which looks more like a grand gold-plated and timber horsecart. Yes, it also has sensational views of the Chao Phraya river which my camera could simply not do justice to. Yes, it is exclusive and you need to take a private lift to get there. But I am here to praise and exalt to the heavens the wonderfully classic, flavoursome food and formal and gracious service that we enjoyed last Saturday afternoon.
We start with an
amuse bouche
of prawn salad with a tube of beetroot jelly, filled with something tasting like an onion confit. A suitably light and appetising start to the meal.
Amuse Bouche
For entrees, the wife had an oxtail agnolotti. Details of this dish will remain scant as she refused to share, but judging from the look on her face, it was pretty damn good: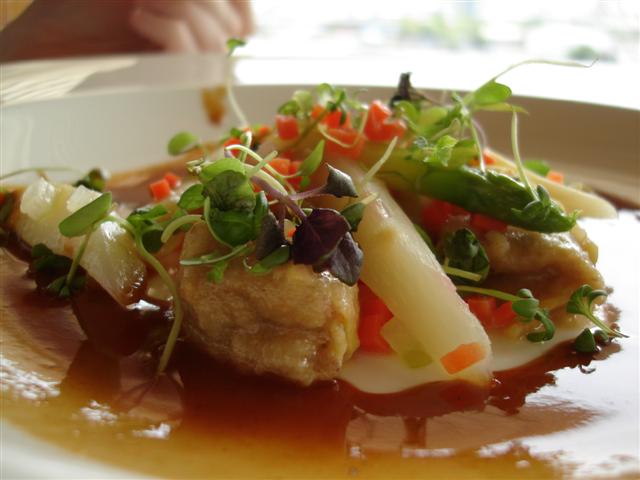 Entree No 1: Oxtail Agnolotti
I had crayfish bisque, with smoked salmon, mussels, lobster and cauliflower mousseline: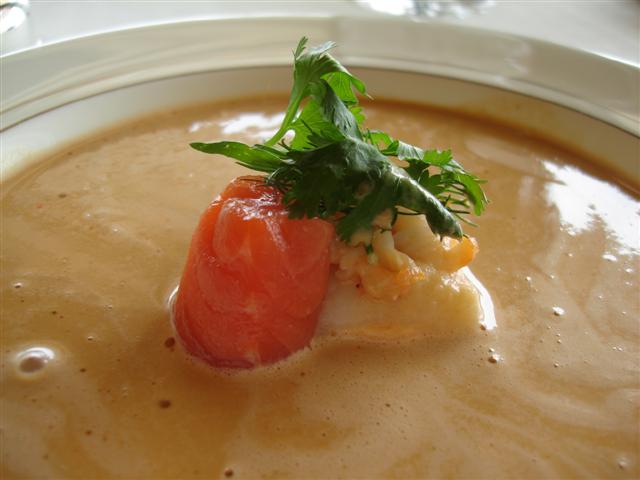 Entree No 2: Crayfish Bisque
I have two rules that I obey inflexibly (normally) when it comes to dining in restaurants - never order soup and never order chicken. I managed to break them both this day, I don't know why, maybe it was the sunstroke I got when I was walking around the Grand Palace, but this was truly amazing. The salmon was rolled around some little matchsticks of what could have been pickled beetroot, so you had textural contrast (i.e. something to
eat
) and the liquid itself was not overly creamy and instead tasted strongly of the shellfish, yet you could taste the various other elements in the bowl.
For mains, my wife had a New Zealand rack of lamb with coffee crust. This being the last stronghold of old-fashioned tableside service, we had to have the lamb carved at the table: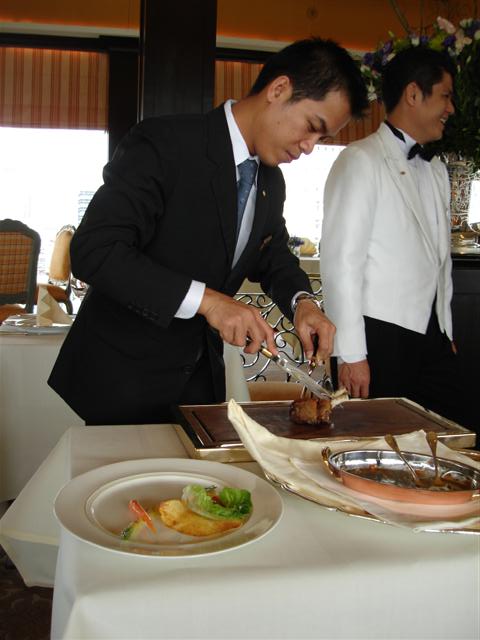 Knowing how much I love lamb, she relented to share a little this time. This rivalled the great lamb I had at Taillevent back in 2003; perfectly cooked to medium as requested and tasty without the rank smell you often find with lamb. I asked myself mid-mouthful 'why can't we get lamb of this quality in Singapore?' I mean, it's imported, so in an ideal world, it would be just as accessible elsewhere, no?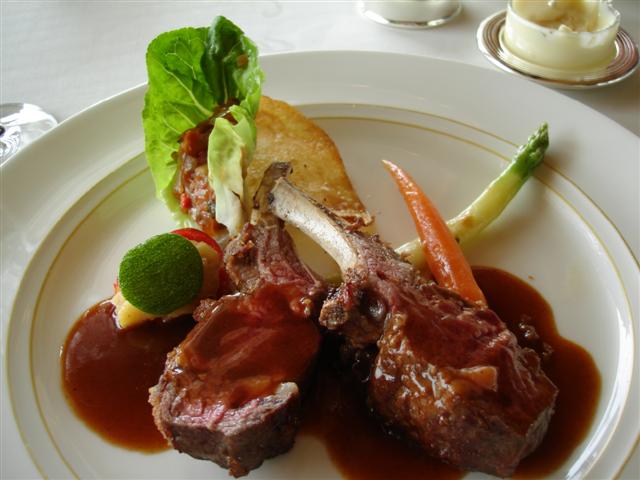 Main No. 1: New Zealand Rack of Lamb
I had roast chicken (there goes Rule No. 2) - the breast pan-roasted with garlic and the thigh rolled around seasonal mushrooms and sun-dried tomatoes. Sauce was reduced chicken juices with rosemary, garlic and mixed herbs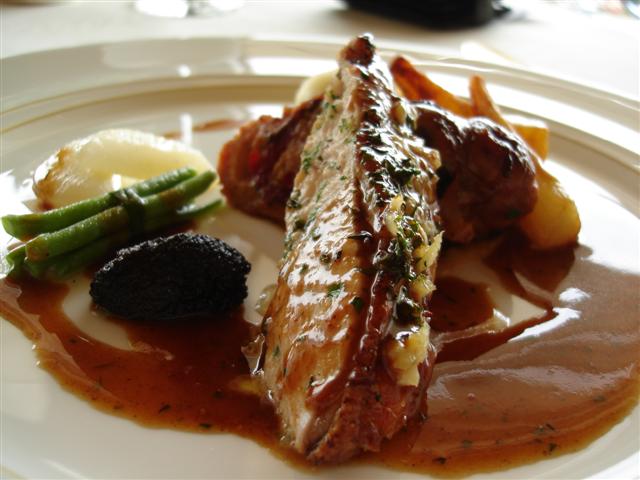 Main No 2: Roast local free-range chicken, breast and thigh, with potatoes and olive tapenade
Amazing. I took one mouthful and leant back against my chair. I would have gone weak at the knees if I were standing up. The maitre'd tells me that they get the eggs from Bresse and hatch and raise the birds free-range in the Royal Projects, a scheme set up by the King to further agricultural development in Thailand's north. What struck me now, as it did almost every single time I tasted a sliver of ripe fruit or savoured the crunch of a vegetable either raw or in a salad, was how amazingly fresh and flavoursome Thai produce is. I have been in Singapore for the last eight months, I know, but I spent many years in Malaysia and Australia, two great agricultural nations, and I don't recall being so impressed by the quality of fresh produce as I have been in Thailand. I am probably generalising and that somewhere out there, there is someone selling sterile, flavourless produce from his pushcart. I didn't meet that guy, and I certainly didn't taste his wares.
Here's part of the view from the dining room:
And another: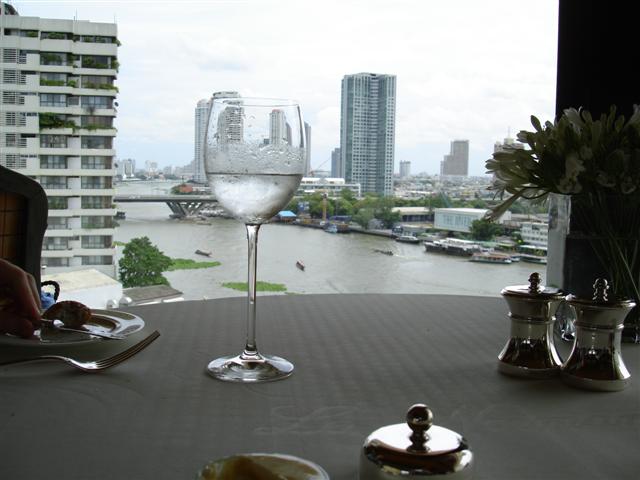 Now comes dessert, and the wife ordered what could be best described as a "Red Plate" - a raspberry and red pepper sorbet, salad of strawberry and tomato topped with fresh herbs, and a savoury yoghurt with tomato compote:
Red Dessert Plate
This dessert was not overly sweet, instead showing a gentle and sophisticated touch in combining tomato with other elements to provide a very clean, fresh finish to the meal. It was not the outrageously delicious kind of dish that makes you jump on your couch and start proclaiming your love for it, but was more of a thinking person's composition - pleasing to the eye and palate after a classic (and quite heavy) French meal.
But I am not a thinking person - I have vulgar tastebuds badly craving a cheap, novel and large sugar hit, and so I opted for the dessert trolley: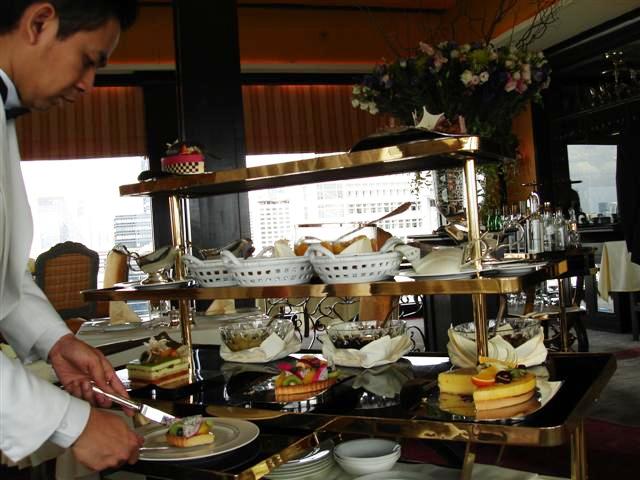 The famous Le Normandie Dessert Trolley
Here's the deal - you get a choice of two items from the selections of cakes and fruit compotes, which your captain will present to you with a rose design on the plate teased out from a little custard sauce, chocolate and fruit coulis: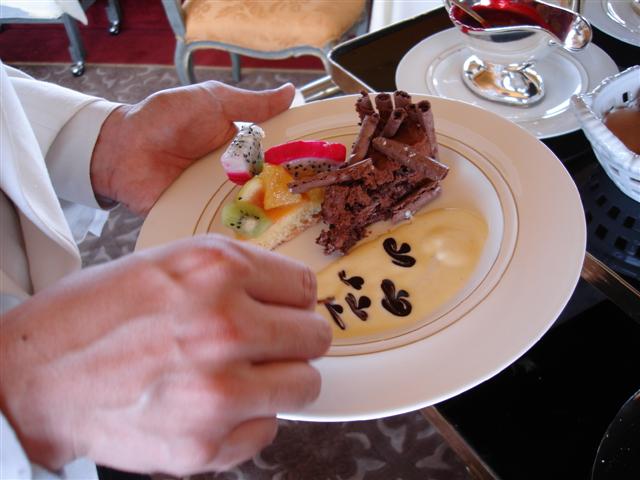 Art by the tableside
I selected a fruit tart and chocolate meringue: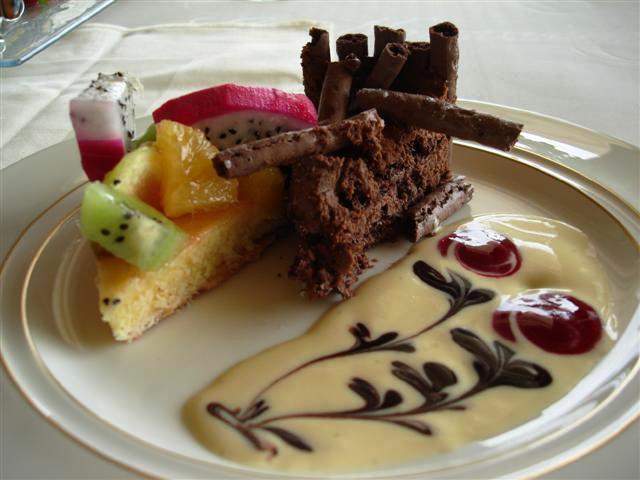 Selection of cakes from the dessert trolley
Good stuff, but after the savoury courses, just about anything would be a let-down. By that scale, this was only a mild disappointment.
Petits-fours to end the meal, with a very nice olive oil macaron and piped yam and fruit tartlet deserving of honourable mentions. I haven't bought into the current Singaporean craze for doughnuts, so I must admit a couple of items were wasted on me: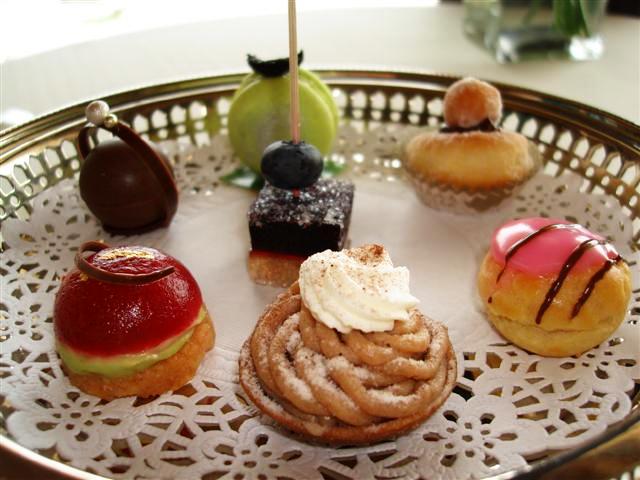 Petits Fours
The last and certainly another very pleasant surprise - the bill for all this plus coffee came to 1000 Bt per head nett, roughly US$32.
In many ways, this was the meal that I was expecting at Taillevent but did not get - great quality produce cooked in a classic fashion, knowledgeable and gracious service in a grand dining room. In fact, Taillevent failed miserably on the first two counts and disappointed on the last (check out what now passes for lighting in the Trianon Room and see what I mean). The wine list, though, is not the largest I've seen and like so much alcohol in Thailand, vastly overpriced. I am told it is the duties that tip the scales.
All in all, a sublime experience at an unbelievable price. I know it's based on only one meal, but my experience at Le Normandie could certainly keep company with some of France's rising stars such as Les Ambassadeurs, Les Elysees (previously under Eric Briffard) and Arnaud Lallement.
I'll post my comments on other Bangkok experiences elsewhere, but the Le Normandie experience was unequivocally superb. To find a restaurant of such supreme quality in Southeast Asia is truly a boon for lovers of fine French food in the region.
Edited by Julian Teoh, 05 May 2008 - 07:54 PM.