We made an excursion to Flushing recently, intending to wander and graze from several places. We ended up losing all self-control in the food court in the basement of the Flushing mall. We didn't even manage to get to many spots there, we got carried-away at our first two.
Xi'an Famous Foods has indeed gotten pretty famous in the last few years. Bourdain visited on his TV show, Kelly Choi did a piece for NY television, and they're pretty well-known amongst the Yelpers and Chowhounds. There are now three shops, two in Flushing and one in Manhattan, at 88 East Broadway. We'd planned on just getting a plate of noodles from here, either their signature Liang Pi Cold Skin Noodles or something with lamb. But while waiting to order, I kept seeing intriguing things being passed over the counter, and I lost my resolve.
We did indeed get noodles, in this case,
Cumin Lamb hand-pulled noodles
. We'd had the Liang Pi noodles before and they're excellent, nicely spicy and chewy, so we decided to try something new. The hand-pulled noodles have a wonderful texture, and I think I like them hot even better than in the cold dish. I'm surprised, the hand-pulling consists of just a tug or two, not the laborious multi-stage stretching of finer noodles. This leaves the dough as a fairly large, flat shape, which nonetheless cooks-up into a tender, yet chewy noodle in a relatively short time. Toss them with a stew of cumin-laced lamb shreds, and you end up with a hearty, vibrant dish. The noodles are very long, and just pliable and tangly enough to make them a bit of a challenge to eat neatly, but they're worth the trouble.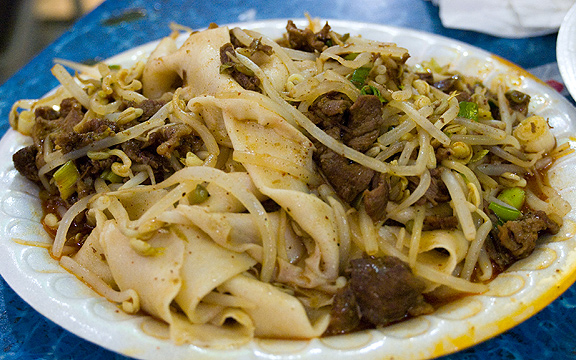 That same saucy lamb can be had in a "burger" which is almost as good, and much more portable. I got a couple to go, and they've been great lunches, even though the bread gets a little tough on reheating.
Something about the name of the dish
Spicy and Tingly Lamb Face Salad
was intriguing, so we ordered that too. It wasn't especially spicy or tingly, it had some chili presence, but I was expecting a more assertive heat, like the Lian Pi Noodles have. But the chunks and shreds of lamb meat, presumably cheek and tongue and who knows what else, were very tasty, and the cold salad of bean sprouts and squash was a nice contrast to the hearty noodles.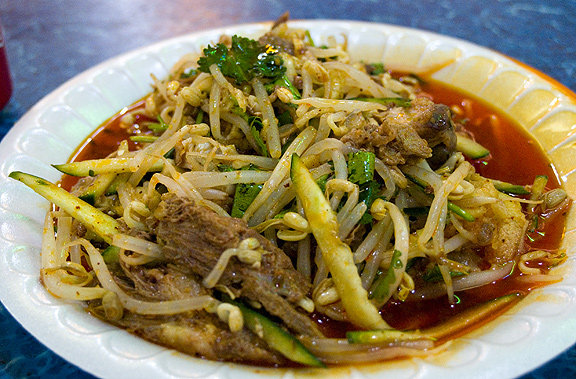 The guy at the counter had noticed us admiring someone else's order of Lamb Ribs and Spine and suggested that we really should get some. Of course we should, and we didn't regret it a bit, they were big and meaty and falling off the bone. In fact, we got several questions from passers-by as we ate, asking what those were and where they could get them. We didn't end up with any spine, it was all ribs, but I suspect the ribs are easier to eat anyway...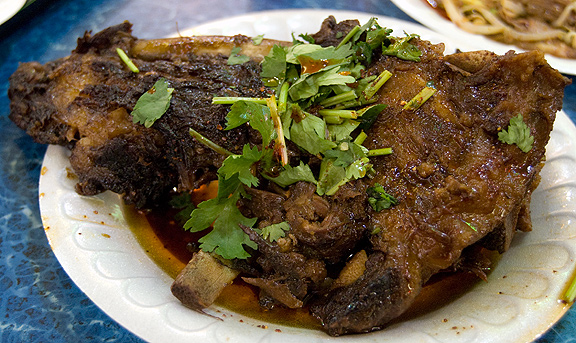 This was a ton of food, for not much money: those three dishes cost less than $20 all together. We got fixated on lamb, but there are some similar preparations using beef and pork too. It'll be hard to deviate from the lamb versions, but maybe someday...
Xian Famous Foods
http://www.xianfoods.com/
locations here>>
Then we couldn't resist grabbing a couple of things from the Taiwanese place next to Xi'an, at the end of the row. The
Steamed Taiwanese Sandwich
is the most delicious iteration of the pork belly bun that I've ever had. It's not saucy, or slicked with mayo, but the pork itself is meltingly tender, there are candied peanuts and pickled vegetables, and the bun itself is slightly sweet. Somehow the whole package just knocks me out. Surprisingly, these travel fairly well, although they're best when eaten immediately.
We also couldn't resist trying a meat bun thing that wasn't bad, but had an odd glutinous texture and a very funky flavor that we couldn't quite nail down, maybe fermented cabbage? Oyster? Stinky Tofu? I didn't see any of that except for cabbage, so maybe it was just that...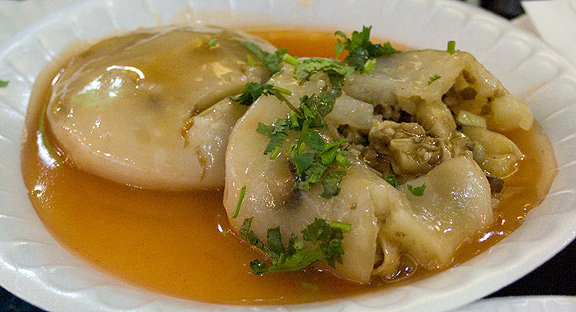 And what? You expect us to not snack on sausage if it's available?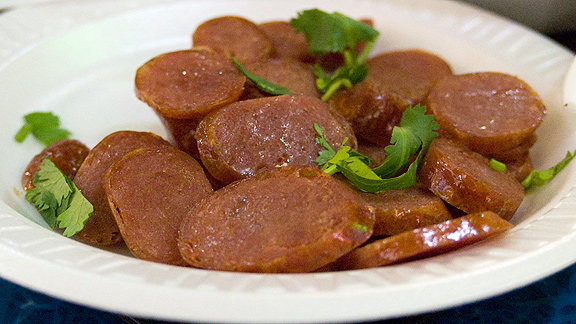 We then wandered around several more blocks of Flushing, intrigued by many other places, hoping we'd work up appetites, but it just wasn't happening. Too many noodles and buns. No problem, we'll just have to go back and try again. It's just going to be hard to not make the same mistakes all over again, and fill-up at Xi'an Famous Foods! I'm definitely getting those lamb ribs again.
Edited by philadining, 14 April 2010 - 03:58 PM.