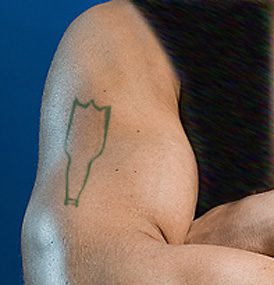 by
Toby Maloney
Names and places have been changed to protect the guilty.
First, let me say I have nothing but admiration and respect for bouncers. They are a bloody rare breed. They put themselves in harm's way for very little money, no concrete benefits (ogling chicks being a non-concrete benefit) and negligible security. They kept me safe, and stomped guys who were annoying me. Then, at the end of the night, I got them drunk. That, in the life, is what we call a symbiotic relationship.
Before I got into this cocktail game I was a club bartender -- strange, as I am neither buff nor dumb. I've never been caught checking out my bicep while opening a bottle of Miller Lite and I can remember an order containing more than three drinks. What got me the club jobs was that I was fast. Sloppy, yes, (ask me sometime about the Long Island Rainbow) undisciplined and insubordinate, without a doubt, drunk and out of my mind (often) but I was fucking fast. On nights when I was on fire I could out ring everybody else, by thousands. I never got scores of digits from girls named Lilly, the "i" dotted with a heart, or C notes tossed down my cleavage, but the bosses put up with me 'cause I put bunches of Benjamins in the banger.
During my stint at some of the most exclusive clubs in Manhattan and elsewhere I ran into a zoo's worth of bouncers.
I don't condone violence. I get sick when I see it, smell it or hear about it. The copper smell of blood turns my stomach, and the rush of adrenalin when a fight breaks out makes me dizzy and disoriented. I've seen bouncers beaten so badly they were hospitalized. There was a kid kicked almost to death in front of my station. I've seen girl fights where shirts have been ripped off. Not once did I think it was cool, or hot.
Tiffany (if I'm going to change the names of huge, wild eyed men I'm going to change them -- for my own safety,) a bouncer I worked with one summer down the shore, was undoubtedly the most unbalanced man I've ever run across. He was a retired Marine who enjoyed inflicting pain. He played a game called "Drunk Toss". He was not a man known for nuance or subtlety. Before the shift started he'd park his beater car -- even his auto was violent -- by the side door. The game: he'd pinion the arms of an offensive patron behind his back, drag him to the door, kick the door open, and count out loud as he swung the guy. "One, two three." Then he'd launch the drunk at the car, trying to smack his face into the corner panel. Tiffany had a point system, which had something to do with blood splatter and broken teeth and he was always trying to beat his high score. Gotta love a man with goals.
If you were his friend he was as loyal as a pit bull, and sweet as cotton candy. He was funny, thoughtful (he never got a beer or had a shot without including you) and definitely the guy you wanted by your bar when the shit hit the fan. Not a guy you'd set up on a date with your sister, but a stand-up guy.
The best security I ever worked with was this older gentleman named Bunny. He rocked a deep leathery tan in December, wore a pinkie ring and a diamond encrusted watch, and would fit right in drinking 'buca with Pauly, Pussy and Tony at the "Bing." Some of the stories about him were far-fetched, others a quilt of outright lies and overt exaggerations. Was he an ex-cop? Maybe. A Navy Seal Delta Force sniper who did 8 tours in Nam? The guy on the grassy knoll? It had been implied. Without a doubt he was an inscrutable enigma wrapped in a murky puzzle, glazed with mystery and hidden in obscurity. One thing for sure, Bunny was a champion talker. He could talk a grizzly bear off a baby wrapped in lox and dipped in honey.
After trying his best to reason with one particular troglodyte he took a step back, removed his watch and slowly put it in his pocket. Then he took off his wedding band and his pinkie ring and those went into his other pocket. It was terrifying to behold, slow and methodical. His cold blue eyes bored into this guy figuring out the most efficient way to rip him limb from limb from limb from limb. You could see him visually locating the joints, and testing connective tissue with the professionalism of a Silcian Butcher, calculating the best way to reduce him to primal cuts of meat. By the time Bunny had rolled up his sleeves the knuckle dragger had wised up and gone quietly into the night.
Years ago I was working at a club in lower Manhattan. Some idiot architect had designed a square bar with one side of the square at chest level for the bartender and the other at knee level for the customers. A melee broke out on this section. It wasn't a fair fight, something like four or five on one. They pushed him over the bar where he landed flailing, like a turtle on its back, into my station. Since they couldn't pummel him any more they picked up glasses and threw them at him. He was on the ground at my feet, thrashing and trying to get up. His huge puffy coat and gigantic baggy jeans protected him from flying shards of glass but made it tough for him to get up and run.
The group of upstanding citizens, which couldn't hit the broad side of an airplane hanger, turned my station into a terrifying, dangerous carnival game. Bottles of booze began bursting on the back bar like bombs. If there had been doves let loose at that moment it would have been a John Woo film. I grabbed the bartender next to me and we dived under the service area. Was I a coward? I'm not sure. I lacked eye protection, and any sort of Kevlar -- Christ, I wasn't even wearing a cup. After what seemed like a half hour of screaming, shouting, cursing, and shattering the bouncers finally quelled the riot. It looked as if a car had rammed into the bar. There was broken glass everywhere, clothes scattered, shoes lost, bev naps everywhere like dead doves. Only one bottle of Grey Goose stood upright, a lone sentinel of Dionysius.
Here's why I'm telling this story: as all the bartenders were ducking and running for cover the bouncers ran toward the melee. They got in harm's way so other people wouldn't get hurt. And they stood up to a bunch of guys who were hammered and who didn't give a damn about the consequences. These guys were ready to start a riot -- who's to say they didn't have guns? Knowing this, the bouncers still waded in to the brawl.
Another time I was working in a spot in the Flatiron District. The club had been open for well over a year so it was letting in the less desirable in the early part of the evening for a few extra bucks a night. No one is sure how she got in; there was a whole lot of finger pointing and buck passing afterwards.
So a very large young lady got snot-flying drunk at the club. She had one of those pear-like bodies where the hips are way, way out of proportion. She ended up passed out in the Women's Room. She'd been sitting on the toilet in acute gastric distress. She lost consciousness and fell forward, like an inchworm mid-inch, her tiny feet wedged against the base of the toilet. Her head was just poking out under the stall, thumbs next to her ears like the cops had said "hands up". Her rear was in the air -- way in the air. Stall doors swing inward, so there was no way to open it up enough to let someone in.
So Madeline had to jump into the stall from the side, flush, and then sit on the toilet. He then did his best to clean her up, and pull up her panties and pants. The only way there was going to be room for two people in the stall -- and to open the door -- was if the customer sat on Madeline's lap. He grabbed her by the hipbones and heaved her up onto his thighs, scraping his back on the plumbing. When the door opened, it looked as if Mrs. Santa Claus was passed out on an elf's lap. From there it was easy-peasy to get her up the stairs and out into the fresh air.
There is another subset of "security." They are referred to as doormen and they come in different styles as well. There is the stereotypical headphone wearing, clipboard totting Nazi who rolls his eyes after he looks at your shoes and will never acknowledge the likes of you. These men and women have fallen prey to the "absolute power corrupts absolutely" axiom. They strut and preen just behind the velvet rope, like lions prancing in their cage.
They are as fake as Velveeta, as shallow as a grass stain, as vain as a model, and as vindictive as a freshly woken rattlesnake. They pull friends from the back of the line, they stand to the side and smoke European cigarettes when they should be doing their jobs and they chuckle behind the backs of their hands at the fashion disasters from the wrong side of the bridge. I know they are an integral part of making a club hot -- for a club to be trendy there must be serious exclusivity. Like the adage "I wouldn't belong to a club who would accept me as a member," a club is about feeling like you have risen above your own humble station.
There are professional doormen who are just doing their jobs, weeding out potential problems and trying to create a good mix inside. A bar should be a melting pot. To create a really good time there should be princes and plumbers, men and women, gay and straight, gregarious and conservative, the whole marvelous cornucopia that is mankind. If there's an imbalance the room feels off. If there are too many guys it's referred to as a "Sausage Fest": everybody gets too drunk and there's usually a fight over one of the few women there. It is so caveman.
Good doormen have to have a photographic memory for faces and names. If they are working at a "hot club" they need to be able to recognize celebs, people who are famous for being famous, artistes, athletes, players in the nightlife industry and the fabulously wealthy.
There is usually a cluster of bouncers right behind the doorman, because if "the door" is doing his/her job the problems will happen outside the club not inside. There will be harsh words and threats, and then as a last resort some drunken guy wearing quadruple pleated khaki pants, $50 sneakers, and a Casio watch will spit at someone, a strategy I've never seen work for gaining entrance.
The doormen at The Violet Hour are chosen for their sense of style, their manner of speech, and the way they exude confidence and can keep control without resorting to violence. But The Violet Hour isn't really a place where you want to start a fight, so we're lucky. There are a few small incidents every night when George or DeCarlo asks patrons to refrain from using their cell phones. It's that kind of entitlement that drives a doorman crazy. I can just see some princess stamping a tiny Choo-shod foot and whining "But my boyfriend's gonna call me from his BeeeeMer."
Like anyone in the hospitality industry I think that the vast majority of bouncers and doormen just want to get through the night with as few problems as possible. They want everyone to have a good time and the bar to prosper so they have jobs tomorrow. They want to sit down, put up their feet and tell stories about the yahoos who they didn't let in because they were rude, plastered, or just didn't get it.
There are lots of things that bouncers do that most people don't think about, and being humane is one of the biggest. They are so vilified for what sometimes seems to be random violence. But they put up with all kinds of things that are in direct violation of the Geneva Convention. They are routinely spit on, and beaten up. They deal with the worst of the worst, the drunkest of the drunk, the pissed off and pissed on, the violent and the bleeding. I, for one, find that a lot of respect and a thank you or two goes a long way to making your night pleasant and safe.
* * *
Toby Maloney (aka Alchemist), 39, has worked in the service industry since the tender age of thirteen. He had worked in every facet of the industry at one time or another as a cook, waiter, dishwasher, busboy, bartender, doorman, and owner. His wanderings led him from the exclusive resorts of Thailand, concocting fresh coconut and Sang Thip cocktails for unapologetic hedonists to pulling beers at Oktoberfest in Austria. Toby was the first bartender at the nationally acclaimed cocktail bar Milk & Honey, as well as putting in time behind the stick at Pegu Club, Flatiron and Freeman's. He is currently a managing partner and the head mixologist at The Violet Hour in Chicago, as well as Chief Creative Officer (CCO) of Alchemy Consulting in NYC.