Now then peeps. Had a extra day off today so I thought I would come down to Brum and check out Purnells, as you do. First off, I drove. I have been planning the trip for about 6 weeks, originally I was going to let the train take the strain, enjoy the views etc. But, as it turns out, it was cheaper for me to drive and park than to take the train. An advance day return, from Lancaster, best offer, £50!! 1 full tank of petrol in my fiesta and couple hours parking £34, and did it in two hours each way!!
I came accross Purnells when I was looking for somewhere to take my Gran out when I saw her a couple of weeks ago. In the end went to Mallory Court (was ok), but really wanted to check this place out.
Its quite a nice place inside, I thought it might be a bit echoey looking at the website, but was nice and warm inside.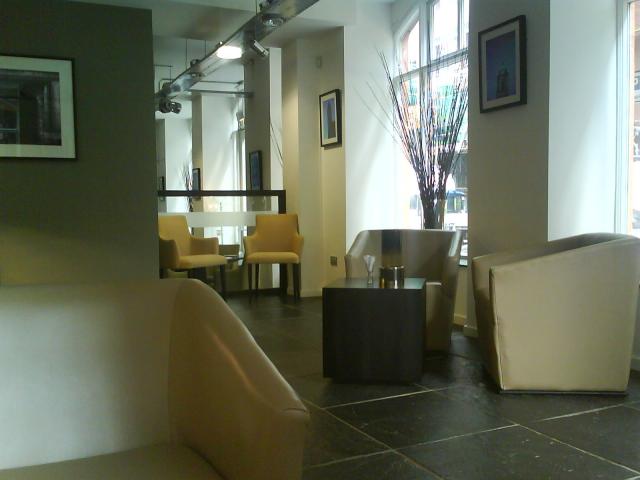 Its smart, modern without being trendy, if you get what I mean. I liked it.
I went ALC, as I thought I might get the odd amuse/pre dessert thrown in. I got a amuse of Potato veloute with rosemary oil. Nice! To start I had Poached egg yolk - smoked haddock milk foam - cornflakes - curry oil.
I found it a bit sickly, could just be me. Was tasty though.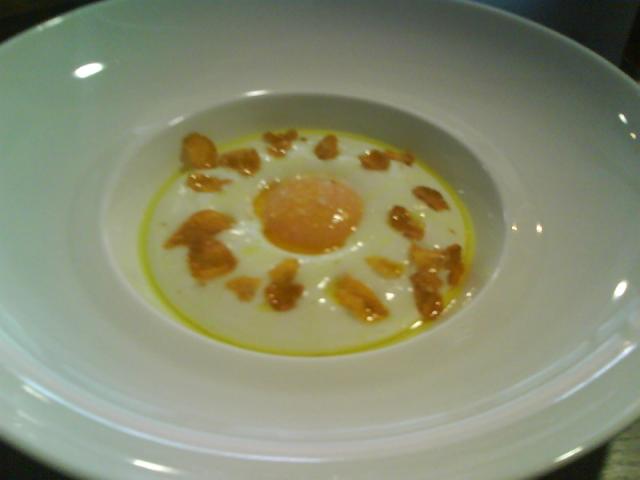 Then had Duck - liquorice - tamarind - rocket - black rice which was most plesant. The duck was done medium rare, spot on. No photo as I felt a geek sneaking photos of my food.
And to finish had Blackberry parfait - bay leaf custard - apple sorbet - glazed apples. Quite refreshing, the bay leaf custard worked well, it was quite thick, more of a paste.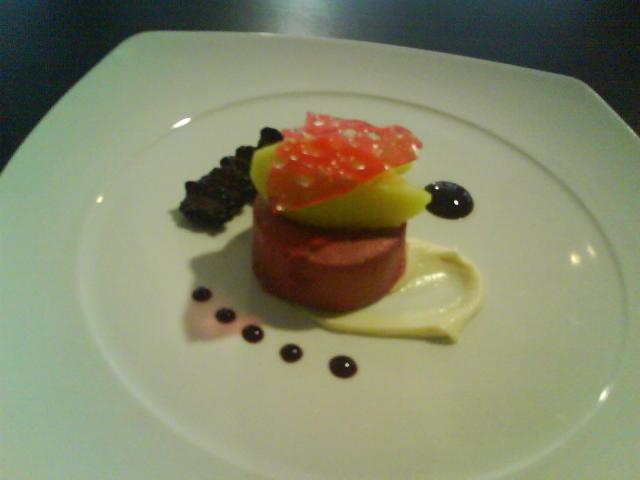 In the end only got the amuse, so prob could have gone with the set lunch, but I thought what the hell. 3 Courses plus a coke and cranberry juice (I was driving remember!! Doh) £48. I was the only one there to start with, I thought 'here we go', a batallion of staff running round after me. But it filled up towards the end. They had music on too, which was great. It breaks up the silence. I hate eating in hushed reverie. Def recommend it. But go for set lunch as its 3 courses £18.95, i'll do that next time. set lunch was 2/2/2 ALC 4/4/4 choices. Service was good, friendly french maitre'd. Crap hand wash in loo. Olives for canapes, i hate olives. It would be good to know what others think?? Ummm, thats all!
Oliver