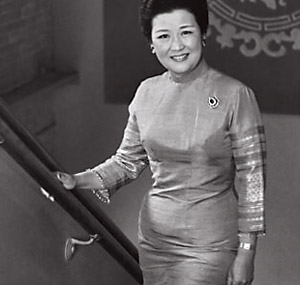 The Daily Gullet is proud to present this exclusive excerpt from The Seventh Daughter.

by
Cecilia Chiang and Lisa Weiss


At the pier in San Francisco, I was met by a sweet, bespectacled official from the Nationalist Chinese Consulate named Lin Chien, who had been instructed by his embassy superiors to take good care of me for the duration of my three-month stay. He introduced me to his wife, and the three of us, along with my sister Sophie, became good friends, exploring San Francisco together.
A few weeks into my visit, on our way to lunch in Chinatown, I ran into two Chinese women I knew from Tokyo who had recently immigrated to the States. We chatted for a while and then they invited my sister and me to join them the next day for dim sum. I accepted, eager to help Sophie make more friends.
We met at the Lotus Garden, in those days one of only two dim sum houses in San Francisco. The bustling restaurant impressed me because I remember thinking, "Har gow. Siu mai. Bao. Mmmmm, this is good, something other than more sweet-andsour pork and chow mein." But, after a few minutes of small talk, my reverie over the food was interrupted. The women got right to the point about something I realized later must have been on their minds from the moment they ran into me.
"Sun Yun," they said, addressing me by my Chinese name, "we want to open a restaurant here in San Francisco, but we need someone like you, a businesswoman who speaks some English and can help us negotiate a lease." They had already found an affordable restaurant space they liked on Polk Street, which just happened to be far removed from Chinatown.
Although a little voice kept telling me that my English wasn't much better than theirs, they persuaded me to talk to the landlord. Somehow, between his heavily accented Italian and my heavily accented Mandarin, we were able to strike a deal for a ten-year lease for $24,000. The only hitch was that someone needed to put up a $10,000 deposit. I wrote a check on the spot. To this day people ask me why I did such a generous thing for virtual strangers. Even now I'm not sure myself, but the only explanation I can come up with is because that's the Chinese way—if you can, you do.
Within just a few days, however, the women backed out of the deal. They both got cold feet—one citing that her husband forbade it, the other claiming it would be too much work on her own. "No problem," I said. "I'll just ask for my money back." That's where my lack of fluency in English came back to bite me. The landlord told me that the deal explicitly stated that I was obligated for the deposit, no matter the circumstance, except death. Since death was not an option, and I was embarrassed to admit to my husband that I had come to America and lost $10,000 of his money (a very large sum in those days), I decided I would try to make the best of it. First, I would make the restaurant a success, and then I would tell Chiang Liang.
Unfortunately, I hadn't counted on the fact that I needed to extend my visa and, of course, explain my reasons to Chiang Liang.
"Come home, Cecilia," he urged. "Don't throw good money after bad." Lin Chien was supportive and helped me with the paperwork, but everyone else said I was crazy. After I'd gotten my new visa, even the clerk at City Hall, when I went to apply for a business license, said, "Lady, do you know seven businesses have opened and closed at that location in six years? You're crazy, but good luck." Sophie said,
"You're too good-hearted, what are you going to do?"
Never one to turn down a challenge, I said, "Well, I guess I'm going to open a restaurant!"
Stubbornly, I ignored all the negative voices, and I don't know if I was just naive or overconfident, but for some reason I believed I could make the restaurant a success.
Most Chinese restaurateurs were serving Americanized versions of Cantonese cuisine and certainly no one offered the deeply satisfying and flavorful dishes of my native northern China, much less the spicy food of Sichuan Province or the sophisticated dishes of Shanghai. Where were the fresh vegetables, feather-light dumplings, or rich soup broths I knew distinguished true regional Chinese cuisine?
In Chinatown, the only restaurant that impressed me was Johnnie Kan's. The food was typically Chinese-American, and while it might not have been authentic, it was quite good and well presented. What I really liked was that Johnnie Kan was a restaurateur, a charming host who greeted his customers at the door, spoke perfect English, and knew how to make his customers feel special. If you came through the door once, he made sure to remember you on your second visit. Also, his was the only restaurant in Chinatown that had tablecloths, carpets, and a full bar, and was constantly filled with Americans. All the others had Formica tables, linoleum floors, and fluorescent lights. I began to think that if I could create a restaurant with Western-style service and ambience and the dishes I was most familiar with—the delicious food of northern China—maybe my little restaurant would succeed.
But the first thing I needed to do was find a chef.
One misconception about me is that I must have grown up in the kitchen. The truth is, for most of my early life, I was really just a good eater. I grew up in Beijing in a traditional upper-class household where the kitchen was off-limits to us children. My mother was a wonderful cook, even if—again in traditional fashion—she didn't actually do the cooking herself. We had two full-time chefs, both of whom spent many hours shopping with her (a challenge for my mother, as her feet were bound, making it impossible for her to stand for more then a few minutes at a time), as well as learning to prepare our meals to her exacting standards.
I learned, too, from my mother. Not how to cook exactly, but how good food, properly prepared, was supposed to taste. Perhaps because I'd been deprived of the experience growing up, once I left home I loved watching cooks at work. I intently observed street vendors make dan dan mian (a classic spicy Sichuan noodle dish) or xiao long bao (soup dumplings). In Shanghai, where Chiang Liang and I lived as newlyweds, I went to the markets with our cook. After shopping, as she moved about our kitchen preparing the meals, I took mental notes. I even instructed her at times as to how I thought her dishes needed to be seasoned. Now, I realize I was making corrections just as my mother had with her chefs. For my restaurant, I knew I didn't want to hire just any Chinese chef, but, wanted someone versed in Mandarin cuisine, as well as someone who would be willing to work for a woman, almost unheard of in those days. I put a small ad in the local Chinese-language newspaper in San Francisco. After many interviews and a lot of anxiety on my part, I found a married couple from Shandong who had immigrated to the United States via Korea.
"We only cook northern home-style food," said the chef.
"That's what I want to serve in my restaurant. But can you make jiao zi?" I asked, referring to the dumplings I loved so much.
"It's my wife's specialty," he said. "She can make 100 in an hour."
The next day, he brought in some of his wife's jiao zi for me to taste. The filling was light, with perfectly minced pork and cabbage. The homemade wrappers were thin, yet properly chewy, just as my mother would have liked.
"You're hired," I said. "Both of you."
After I found my chef, the next thing I did was have the restaurant's entrance door painted ruby red for good luck and affixed with brass Chinese letters that spelled out The Mandarin. Translated literally, Mandarin means Manchurian nobleman, and the three Chinese characters that spell out Mandarin are fu (good luck), lu (prosperity), and sou (long life).
Another misconception about me is that I'm an astute businesswoman. In truth, when I first opened the restaurant, I had no idea how to run it. Luckily for me, my friend from the consulate, Lin Chien, came to my rescue at just the right time. My f irst few months as a restaurateur in America had been a disaster. Not knowing what people would like, I put 200 dishes on the menu at a time when we had no walk-in refrigerator, just a little icebox. Every day we had to throw out cases of food. Most of the ingredients we needed were unavailable, even in the Asian markets. We had to have them shipped from Taiwan, paying a premium for things like Sichuan peppercorns, sesame paste, sesame oil, and preserved vegetables. The chef and I made daily shopping trips, not just to Chinatown, but also to Japantown for fresh herbs like garlic chives, and to North Beach, San Francisco's Italian community, for eggplant.
One day, in a state of exasperation, I blurted out to Lin Chien, "What am I going to do? I'm losing money like crazy!"
"Madame Chiang, let me look at your records. I think I can help."
Even though we'd become friends, he continued to address me formally. I gave him my books, which my sister Sophie had been doing for me. The next morning he explained about food costs and factoring in rent and salaries for the staff. "What staff ?" I said. "I just have two cooks and two waiters. Besides the bookkeeping, which my sister does, I do everything else."
Most days I arrived early to clean, shop, and prep, and then stayed until we closed to greet guests. I was obsessed with cleaning the restaurant, determined that my establishment would be unlike many of the other Chinese restaurants that always seemed dirty to me. Many nights after the restaurant closed, or early in the morning before the chef arrived, I was in the kitchen scrubbing away the grease.
Suddenly I had a thought. I knew that Lin Chien's term of service in the United States was up, and he had been ordered by his government to return to Taipei. His wife loved her life in San Francisco, and did not want to leave.
"Lin Chien," I said, "come to work for me. You can manage the books and maybe take on some other jobs, too."
He told me he'd discuss it with his wife. Within the week he called and said, "I'd be honored, Madame Chiang."
"Okay, but you have to call me Cecilia from now on."
Lin Chien sold insurance during the day and did our books at night. I was left free to concentrate on the food and service at my restaurant. After being in the red for a while, we slowly began to make a little money. Through word of mouth, our business gradually began to grow. At first we had a mainly Chinese clientele, but slowly I noticed that more Americans coming in and requesting some of the dishes they'd been at first reluctant to try. Hot-and-sour soup had become really popular, and we had trouble keeping up with all the orders of jiao zi, which we were pan-frying to make pot stickers.
About a year after The Mandarin opened, the restaurateur Vic Bergeron (Trader Vic), a friend and one of my regular customers, brought in a man he introduced as Herb Caen. I didn't think much of it, but a couple of days after their dinner, I arrived at the restaurant as usual and the phone wouldn't stop ringing.
"My God, what's going on here?" I cried to no one in particular.
Finally, one of the calls was from a regular customer who told me that Herb Caen had said in his morning column that a "little hole-in-the-wall" joint on Polk Street had some of the best Chinese food east of the Pacific Ocean.
Herb Caen was a San Francisco "three-dot" columnist and from that day on, my little sixty-five-seat restaurant was full through several turnovers, often with lines out the door. I hired more waiters, busboys, and kitchen help. And I even found someone to clean the kitchen at night.
Excited, I called Chiang Liang and told him about my sudden success, but also admitted that I had no idea when I'd be able to return to Tokyo. Within the month, my husband came to San Francisco to see for himself this little restaurant that was keeping me in the States.
+ + +
Selected recipes from
The Seventh Daughter
:
Chongqing Spicy Dry-Shredded Beef
gan bian niu rou si
A few days after arriving in Chongqing, Sichuan Province, after our "long walk" from Beijing, my Uncle Ting's cook served us this dish. At the time I thought I'd never tasted such a wonderful balance of heat and flavor. In 1996, when George Chen asked me to help him create the menu for his San Francisco restaurant Shanghai 1930, I remembered this dish from The Mandarin, one I hadn't put on the menu of any other restaurant since. George loved it, but felt that it was too labor-intensive. I reworked the recipe to make it easier to reproduce in a restaurant kitchen. The result is a dish that is still popular with Shanghai 1930 regulars, as well as with my friends when I serve it at home.
Although it might seem a messy and unnecessary step, frying the beef slices first in hot oil results in a texture that transforms this dish from simple to sublime. —L.W.
Serves 6 to 8 as part of a Chinese meal and
4 to 6 as a Western-style entrée
11/2 pounds flank steak
2 to 3 cups peanut or corn oil, for deep-frying
3 garlic cloves, minced
1 teaspoon peeled minced fresh ginger
5 whole dried red chiles
5 celery stalks, sliced diagonally 1/8-inch thick
1 carrot, peeled and cut in 1/2-inch dice
1/2 teaspoon freshly ground black pepper
2 tablespoons soy sauce
1 teaspoon chili paste or chili oil (page 5)
So the beef is easier to slice, freeze it for 30 minutes or so to firm it up. Slice it diagonally against the grain into 1/8-inch-thick strips. Cut them crosswise into 2- or 3-inch pieces.
Line a plate or small baking sheet with paper towels and have it ready near the cooktop. In a large, flat-bottomed wok or wide, deep saucepan, heat the oil over high heat until it registers 350°F on a deep-fry thermometer. Carefully slide the beef into the oil, and using a long chopstick, quickly stir the pieces to separate them. Stir and cook for 15 seconds; with a mesh strainer, scoop out the pieces and spread them out on the paper-lined plate to drain. Reserve the cooking oil.
Heat another pan over high heat until a bead of water dances on the surface and then evaporates. Add 2 tablespoons of the reserved oil from the other pan and swirl to coat the pan. Add the garlic and ginger and cook, stirring continuously, for 15 seconds. Quickly add the chiles, celery, carrot, black pepper, soy sauce, and chili paste, and stir until well combined. Toss in the cooked beef and stir until the meat is glazed with the sauce, about 15 seconds longer.
Turn the beef mixture out onto a platter and serve hot.
Mandarin Crispy Chicken Salad
liang ban ji si
I always chuckle to myself whenever I see "Chinese Chicken Salad" on a menu. It seems like every restaurant (even the fast food chains) offers some variation of the salad that we first served at The Mandarin. Truly, there is no "real" Chinese chicken salad. In China, lettuce was imported and rare, and salads were things that were pickled. I came up with the idea for this salad simply as a way to use up iceberg lettuce. We had plenty left over after we trimmed the outer leaves of the heads to serve with minced squab. In the 1960s, everyone loved salads made with iceberg lettuce, and it became a very popular dish in San Francisco, but it was the number-one seller at The Mandarin in Beverly Hills, where it seemed that all our customers were watching their weight and that anything with lettuce back then was "low-cal."
This salad is all about crunch. Cecilia says that originally the waiters at The Mandarin tossed the salad tableside, so that all the ingredients would retain their crispiness. The recipe calls for fried rice-stick noodles, which are also called bean thread or cellophane noodles, and are usually sold in 2-ounce bundles. You can fry them ahead of time and keep them in a ziplock bag for up to 2 days, or fry them before you fry the chicken in this recipe. Make this recipe easier by using leftover chicken or a roasted chicken purchased from the deli. —L.W.
Serves 4
1 large egg, lightly beaten
Cornstarch
2 boneless, skinless chicken breast halves
2 to 3 cups peanut or vegetable oil, for deep-frying
1/2 large head iceberg lettuce, cored and shredded
3 green onions (white part only), shredded
11/2 cups (about 7 ounces) finely chopped lightly salted roasted peanuts or cashews
2 tablespoons toasted sesame seed
2 to 3 cups deep-fried rice-stick noodles
(see page 36)
1 bunch chopped fresh cilantro, plus fresh
cilantro sprigs for garnish
1/2 teaspoon Asian sesame oil
Kosher salt
Freshly ground black pepper
For the dressing

2 teaspoons dry mustard
1/4 cup warm oil (reserved from the frying, above)
2 teaspoons Five-Spice Mix (see page 6)
Set a wire rack over a plate and keep it nearby. Put the beaten egg in one shallow bowl and the cornstarch in another. Dip a chicken breast in the egg, letting the excess drip off, and then dip it in the cornstarch, turning until well coated. Dip it once more in the egg, and then rest it on the rack. Repeat with the other chicken breast. Refrigerate for 1 hour.
Line a plate with paper towels and have it ready near the cooktop. In a large, flat-bottomed wok or wide, deep saucepan, heat the oil over high heat until it registers 350°F on a deep-fry thermometer. Add the chicken and cook until golden on both sides, about 3 minutes per side. Transfer to the paper-lined plate to drain. For the dressing, set aside 1/4 cup of the oil from the wok in a small bowl to cool slightly from hot to warm.
To make the dressing, whisk the mustard powder with the reserved warm cooking oil in a small bowl; whisk in the five-spice mix until well combined.
To assemble the salad, put the lettuce, green onions, nuts, sesame seed, rice sticks, and cilantro in a large salad bowl. Slice the chicken breast into 1/4-inch-thick strips and add to the salad. Pour over the dressing, add the sesame oil, and toss until all is well combined. Season to taste with salt and pepper. Serve the salad garnished with sprigs of cilantro.
* * *
From The Seventh Daughter, by Cecilia Chiang and Lisa Weiss. Copyright 2007 by Cecilia Chang and Lisa Weiss. Cover photograph by Ed Anderson. Reprinted with the kind permission of the authors and Ten Speed Press.