I did one more thing in the kitchen tonight: baked an apple cake. I nearly always make an apple cake to celebrate Rosh Hashanah, because it's the right time of year for apples (a little early this year), and I like it better than the traditional apples with honey, or honey cake. This became one of the recipes in
Dorie Greenspan's book
but it started out as mine. Or rather, as my great-grandmother's. It came to me through my mother's sister.
As always, I started by getting my ingredients together. I didn't get the eggs (2 of them) out of the fridge for the photo because I realized that the kitchen was warm enough tonight to make the butter a little softer than ideal. I wanted to keep the eggs cold, to try and chill the butter so it would stiffen up a touch.
First step: make the dough. Two sticks of butter, two eggs, and a cup of sugar go into the mixer bowl.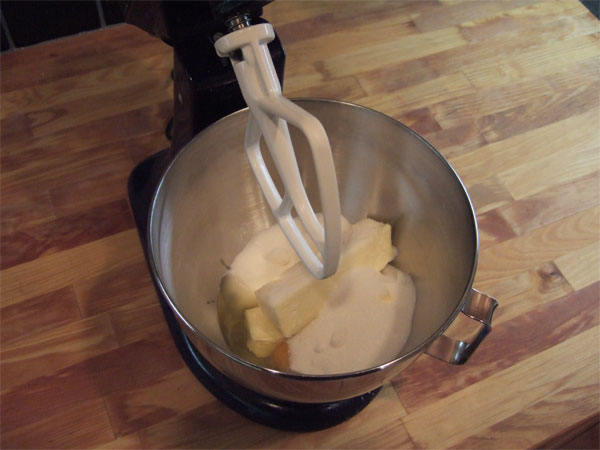 When it's nicely creamed, add a tablespoon of baking powder (yes, you read that right, a whole tablespoon) and about half a teaspoon of salt. Then add the juice of one lemon; this will make the dough slosh around the mixer bowl, and you'll need to scrape the sides to get everything combined. Finally, add the flour. The exact amount of flour depends on how juicy your lemon was. Because this is an old touchy-feely recipe, I don't measure too exactly either. I know that it always takes at least 3 1/4 cups of flour, and I always use King Arthur AP flour for this. I generally get the first three cups in, scoop up the fourth cup, and little by little add as much of it as it needs. You're aiming for a dough that will eventually be rollable but you don't want to add so much flour that the dough gets dry. In this case, I used about half of the fourth cup of flour. It will look something like this when you're done: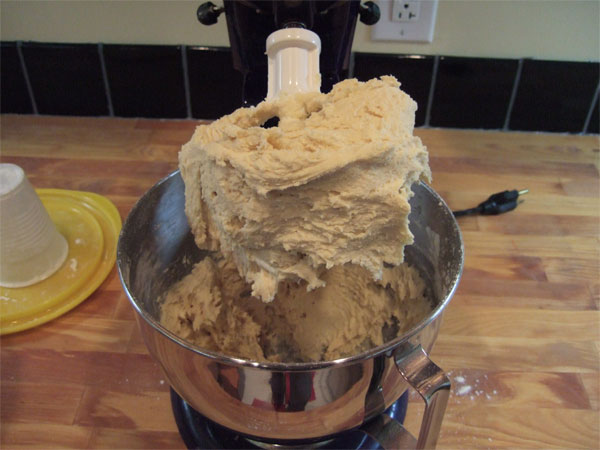 (actually, I probably could have used a little more flour in this batch. Guess my lemon was extra-juicy. The oversoft butter didn't help either.)
Divide the dough into two parts. Getting it exactly even isn't tremendously important, because you have more dough than you need. Flatten each dough portion, wrap each in plastic wrap, and let them chill in the refrigerator for a while. I typically leave them in while I make the filling, but my kitchen was apparently on the warm side because the dough really needed to be colder to be properly rollable. But fortunately, for this recipe it's not a big issue.
Before you begin the filling, turn the oven on to 350 degrees F.
For the filling, start by peeling,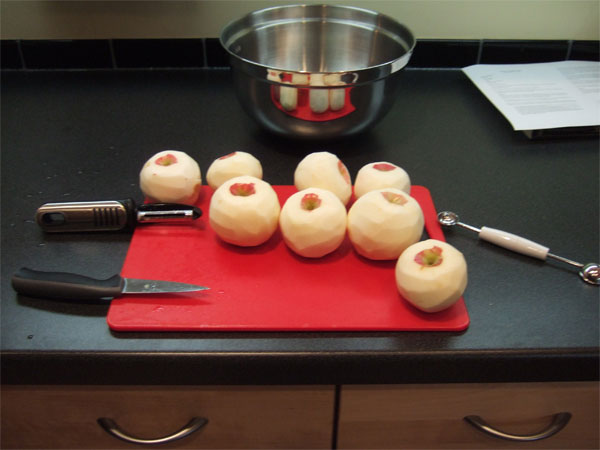 coring, and slicing about 8 apples into a large bowl. You want lots of filling in your apple cake, so it's better to prepare more apples if yours are small. I'm using some of the Paula Reds that I got from Fruit Valley Orchards earlier in the week. Because these are a somewhat softer apple to begin with, I kept my slices a little on the thick side. Taste a sample or three to see how your apples taste before you add anything.
Squeeze the second lemon,
and add the juice to the apple slices. If your apples are sweet, add it all, but if your apples are tart you may want to be more sparing. Toss the slices in the juice to separate them from one another, and to coat each slice with lemon juice. Add cinnamon and sugar to taste—again, this depends on your apples. If your apples were sweet to begin with, you won't need as much sugar. These apples were pretty sweet, so I only needed a couple of spoonfuls of sugar. I added a generous sprinkle of cinnamon because I like cinnamon. Toss it all together with your hands, and taste again.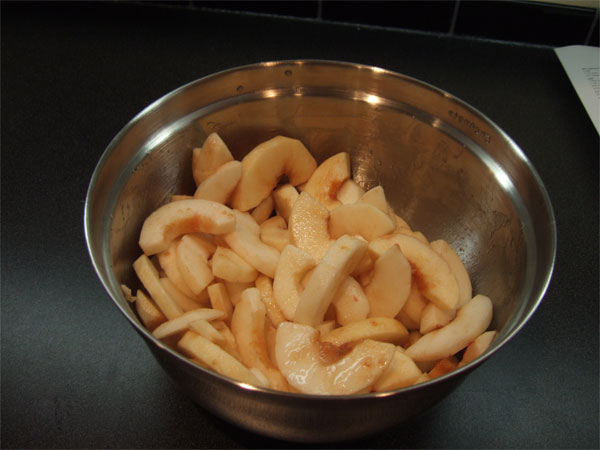 Once the filling is mixed, it's time to roll the dough. My dough was still really soft, because my butter started out really soft and the dough didn't have enough fridge time to firm up. Nonetheless, I floured my counter and tried rolling it anyway. I was able to get it rolled, fold it into quarters, and use my scraper to convey it into my pan (a pyrex deep-dish pie pan), but I couldn't unfold the dough without it sticking together and tearing. Oh well, never mind. This dough is quite forgiving, so if you don't like to roll dough or if you run into trouble, all you need to do is press the dough together, and push it where it needs to be. You can even get away with no rolling whatsoever: just pull off chunks of dough and pat them into the pan. There will be extra dough left over, so set it aside.
Then, the filling needs to go into the lined pan. I don't usually just dump the filling in from the bowl, because all the juice from the bottom of the bowl will make my crust soggy. Instead, I use my hands to move the apple pieces from the bowl into the pan, leaving the liquid behind.
Next up: another rolling session. I don't know why I bothered, because if the first half didn't go in nicely, the second certainly wouldn't. And it didn't. I rolled it out, folded it in quarters, and again failed miserably in unfolding the dough on top of the filling. So I got to patch it together. This is actually what most of the family does with this dough. To my knowledge, I'm the only one since my great-grandmother to actually successfully roll this dough and neatly get it into the pan. I usually have better luck, but I usually also have a much colder kitchen. So I'm just another family member tonight.

Once the top crust goes on the cake, you need to cut some vents. The dough will tend to close up on itself in the oven, so twist the knife to make the slits wider.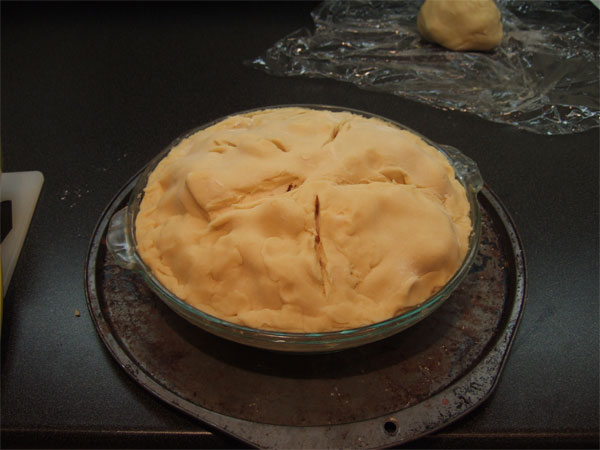 And then, into the oven it goes! The trick is to get the filling cooked without underbaking the dough. The absolute worst thing you can do is underbake the bottom crust. That's why I use a glass pan: I can pick it up and look at the underside to know if it's done.
I always have leftover dough that didn't fit into the pan. I gather it up into a disk, wrap it in plastic, and put it back in the fridge. Tomorrow, I'll roll it out, cut it with a star-shaped cookie cutter because that's what my great-grandmother always used, sprinkle the cookies with cinnamon and sugar, and bake them off. My grandmother's older sister would take the leftover dough and form it into a roll to slice, sprinkle with cinnamon and sugar, and bake.
Expect the apple cake to take at least 45 minutes to bake, and often closer to an hour or more. Eventually, it will be done (meaning the dough on the bottom is starting to brown). It then needs to cool before you can cut it and enjoy it. I'll leave mine to cool overnight.
It's not a beautiful dessert by any stretch of the imagination. This one in particular is aesthetically challenged, since I screwed up the dough-rolling. But this is the only recipe I have from my great-grandmother, whom I never met, and because of that I don't want to fancify it or pretty it up. I hope she'd approve.
MelissaH
Edited by MelissaH, 16 September 2007 - 08:22 PM.